How You Can Build An Online Business Entirely Through Viral TikToks And Make $5-10k Profit Per Month
20+ Hour Course, Weekly Calls, Exclusive Discord Community
We started building businesses in 2015
8 years of grinding, day in and day out but making no progress
Because it didn't matter how hard we worked...
If we weren't working on the right thing
From side hustle to side hustle
We had done it all
Reselling, trading stocks, software, even raising money for a company that generated $0 in sales
Until we found TikTok
And in the first week, generated $10k in sales from one video
24 months later, and we have now done $3.8M in sales, 850M views and 2.45M followers
ENTIRELY through the "dancing kids app"
While other people scroll mindlessly for entertainment, we use it to make money
And now we want to show you exactly how you can do it too
With The Collective
Here's What's Inside:
Exclusive Discord Community
When you join The Collective, you get instant access to our exclusive Discord community
Here are just a few of the 30+ channels
1. Opportunities:

A job board to both find jobs as a tiktok creator and hire tiktok creators (people are making $10k/m working as creators just from this channel alone)
2. Account Examples:

Examples of TikTok accounts going Viral RIGHT NOW that you can model your content on
3. Trending Audios:

Sounds that are currently trending that you can use for your own TikToks
4. Product Examples:

New products that are going viral that you can swipe to run on a dropshipping store
5. Content Challenges:

We give away prizes to anyone who can post every day for a month
6. TikTok Hooks:

Examples of viral hooks that have been proven to work for past viral videos
7. Free Software:

$250 in spy tools to find competitor products, websites and even their revenue (all included FOR FREE)
8. VPN Solution:

Our exclusive solution to hit the US for you page even if you live outside of the country
2. Private Supplier:

A private supplier that we have partnered with to give you the best prices and source any product for your store
6,500 Members Inside
20+ Hour TikTok Business Course
You also get instant access to our course that shows you exactly how we build 7 figure brands on TikTok
Here are just a few of the 50 videos (24 mins average length)
1. TikTok Misconceptions:

Breaking down all the myths spouted by gurus who have never made money from TikTok
2. Best TikTok CTAs:

How to create call to actions to turn viewers into buyers
3. Optimizing Comment Section To Boost Virality:

How to create a comments section of raving fans and increase engagement
4. Getting Past Zero Views:

What to do when you first start uploading and get stuck at 0 views per video
5. Sourcing Products and Suppliers:

How to find winning profitable products from suppliers
6. Choosing Viral TikTok Products:

Breaking down our product research strategies to find consistently viral products
7. Finding TikTok Trends:

How we find trending tiktok sounds and challenges in under 5 minutes that boost your videos
8. New Age Controversy:

How to use controversy to skyrocket your engagement (without appealing to 12 year olds with terrible jokes)
9. TikTok Street Interviews:

Breaking down a new content model that allows creators to charge $5k/m for one client while skyrocketing sales
10. Behind The Scenes Creating A Viral TikTok:

Uncut footage showing exactly how we create TikToks for clients from start to finish
11. Turn Views Into Cash:

The key elements of your TikToks most beginners ignore that turn a viral video into thousands of $$$
12. Creating Killer TikTok Hooks:

Our unorthodox way to create video openers that capture a viewer's attention within seconds
13. Scaling Brand to $150k/m Breakdown:

Behind the scenes on what it looks like to run a 7 figure business on TikTok
14. Selling Your Business:

How to sell your business to cash out on years of hard work
15. How I Work 1-2 hrs Per Day on a $1M Biz:

The exact system to automate your business so you can live life while printing cash
16. Hiring Creators and Building A Team:

Our step by step breakdown of how we have hired 50+ creators to create TikToks at scale
17. Urgency Is Imperative:

The mindset necessary to succeed where others have failed and scale your business as quickly as possible
18. Mental Health and Business:

Explaining the realities of running a business and how to overcome any mental barriers
6,500 Members Inside
People Inside The Collective Changing Their Lives
Hit a $6k Day With TikTok Organic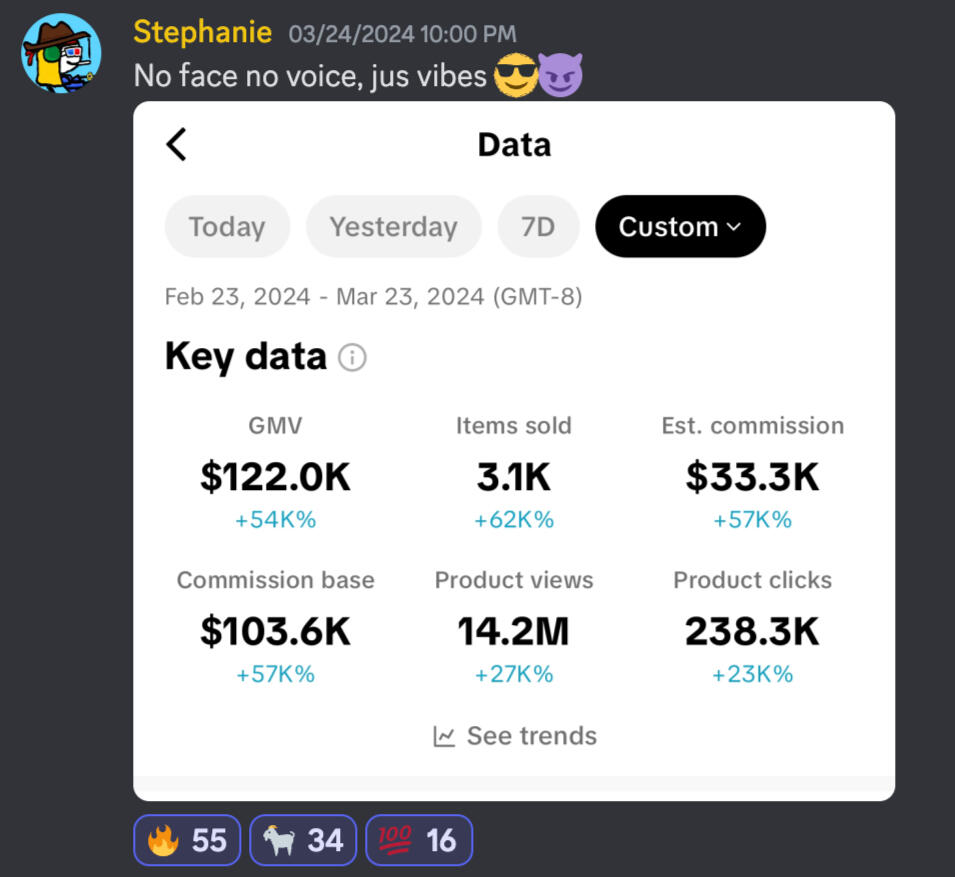 He Made $16k Revenue in 7 Days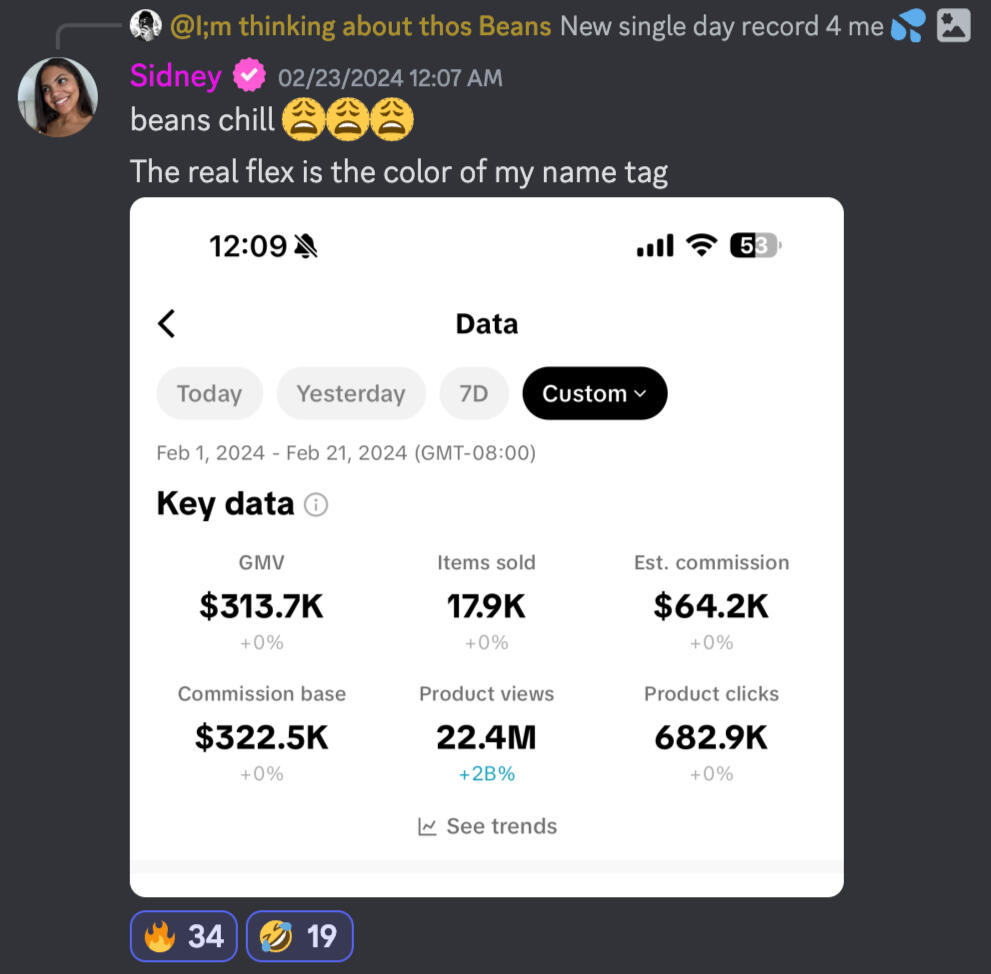 Did $6k in 2 Days From A Viral TikTok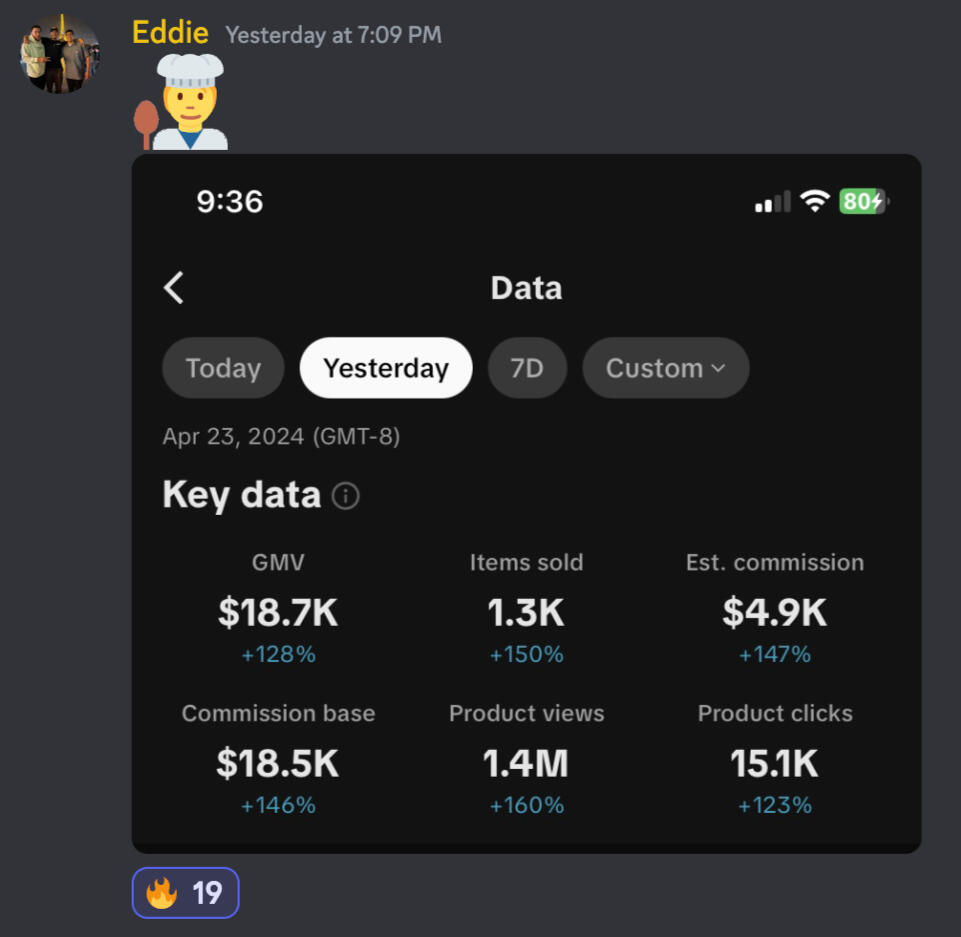 His First $100k Month With Zero Ads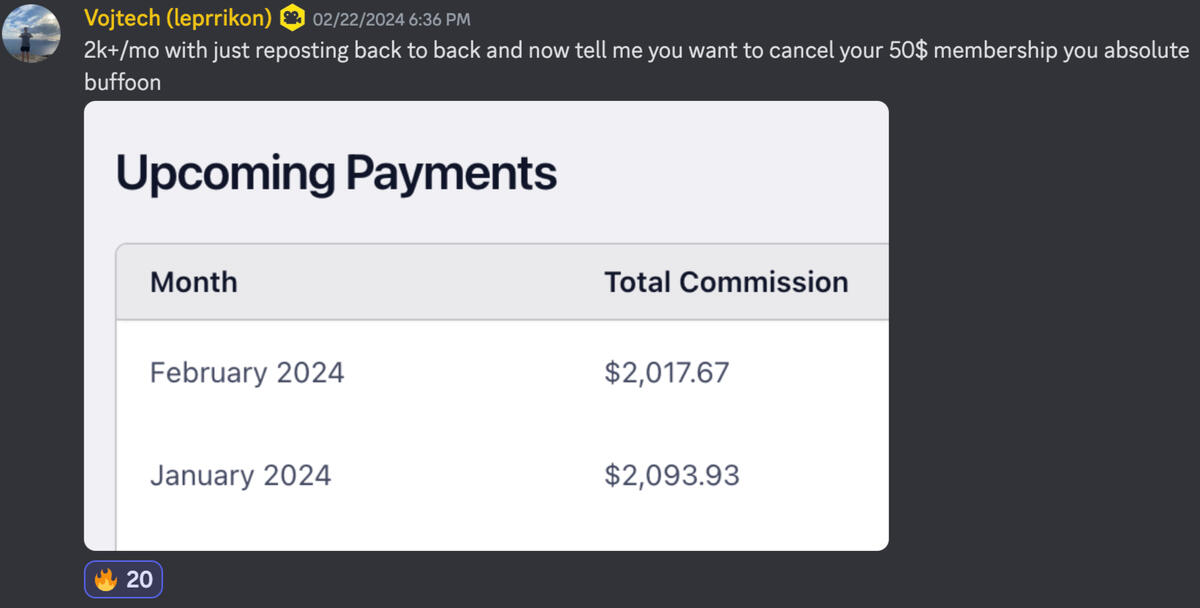 Another $6k Day From TikTok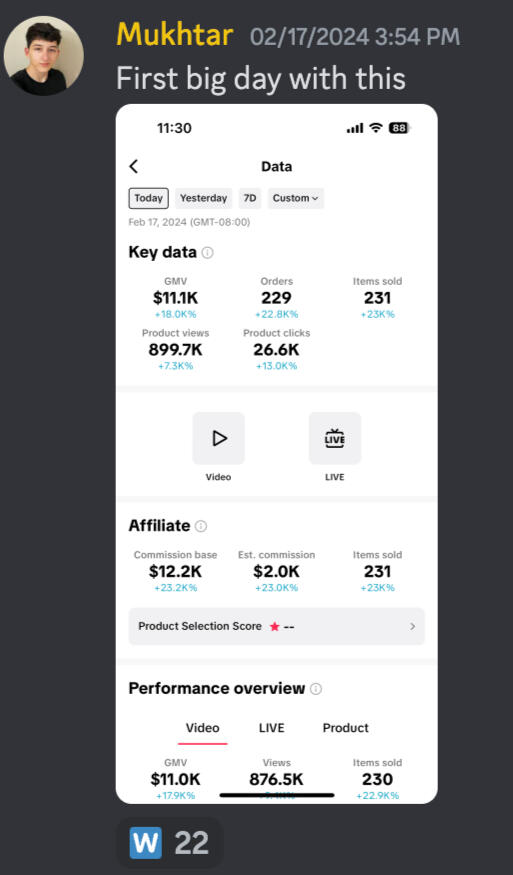 Grew 70k Followers in 30 Days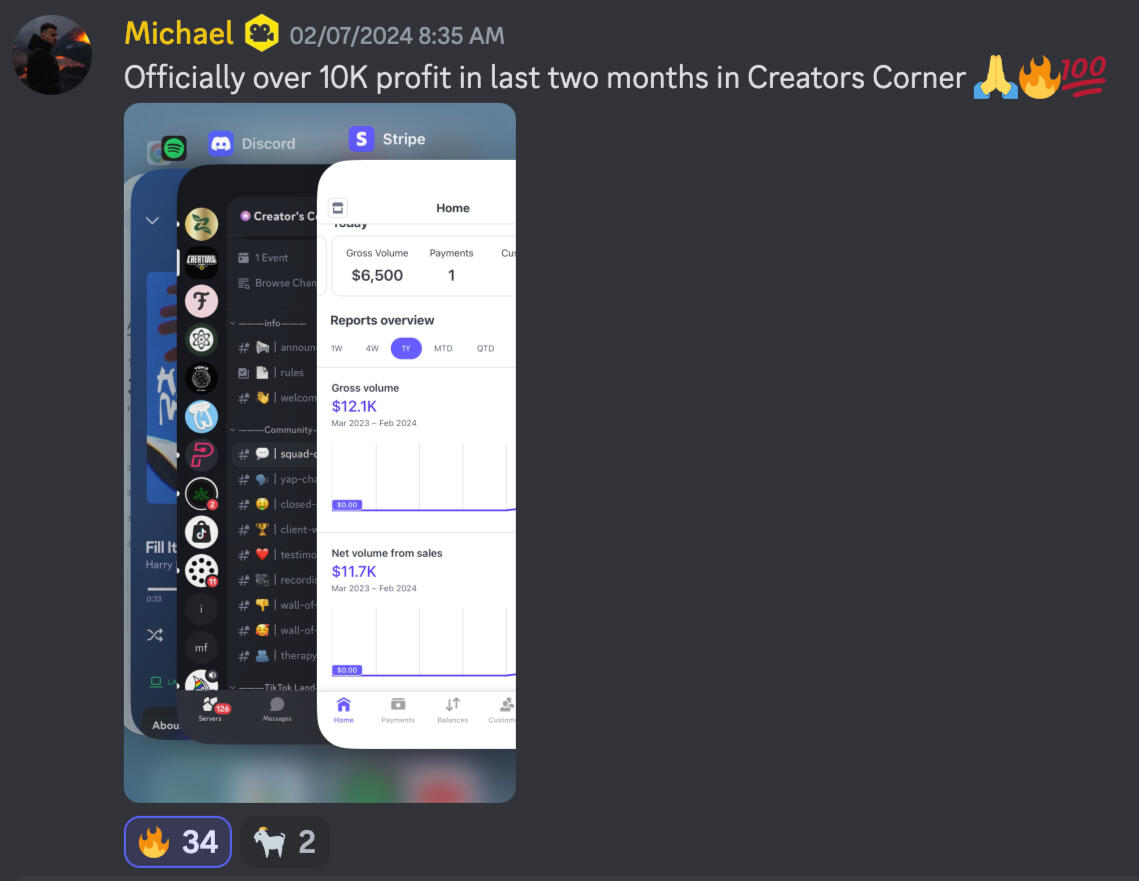 $1.1k in a Week On A New Store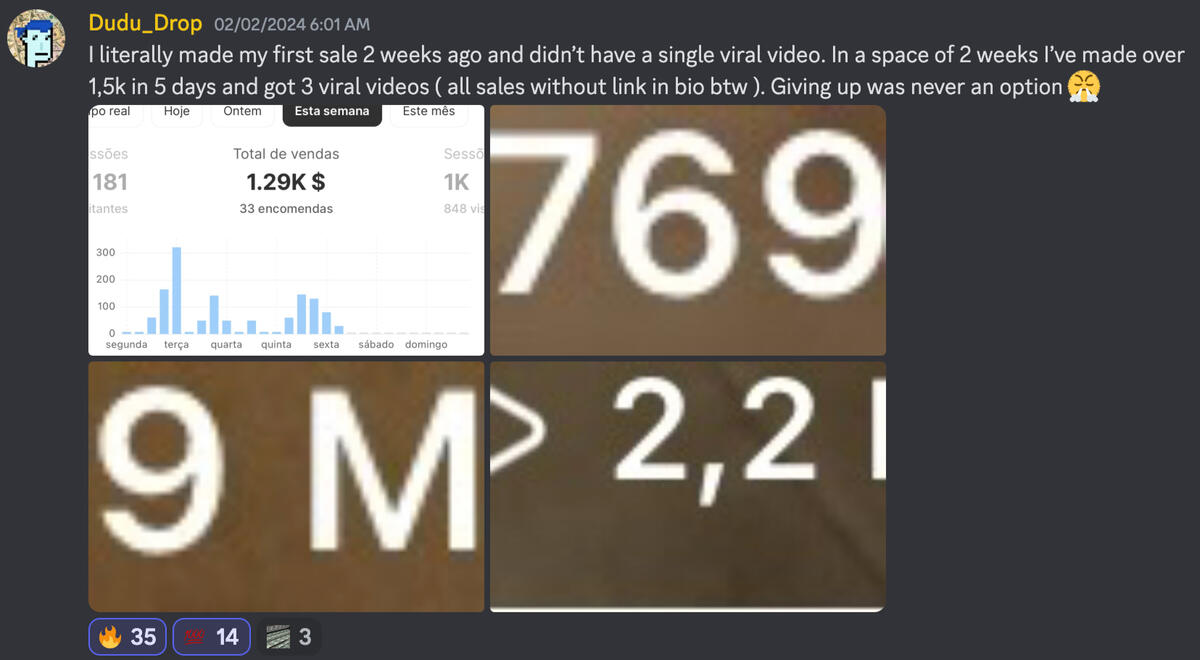 $50k in 4 Days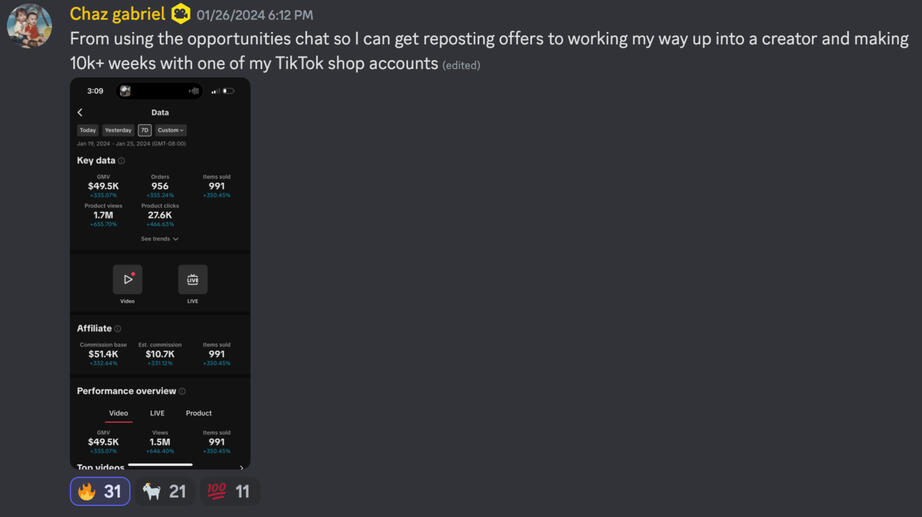 7M Views in a Week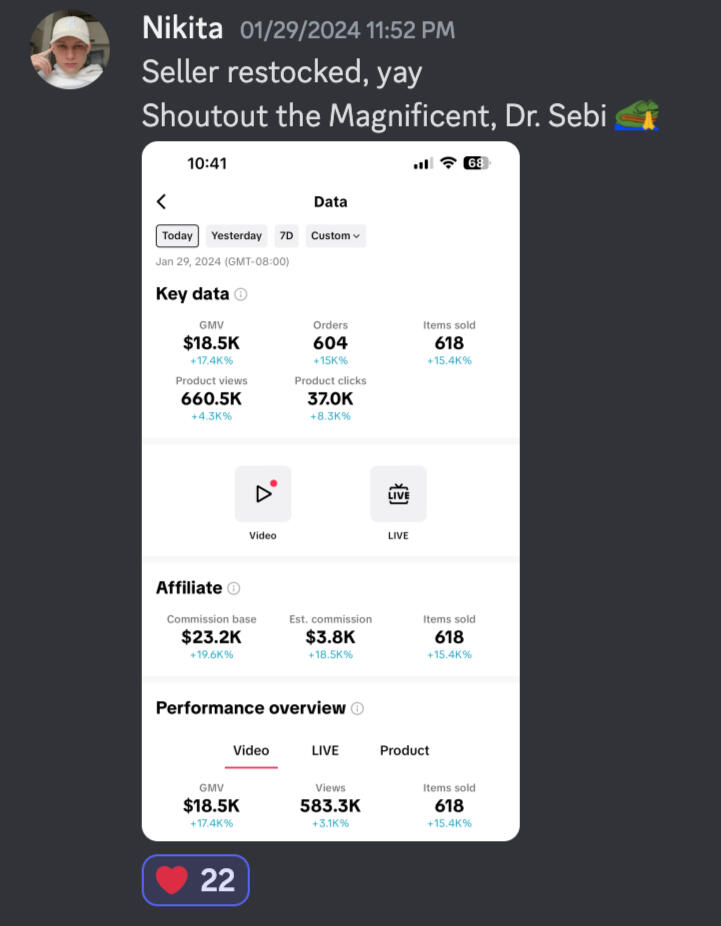 Hit His First $1k Day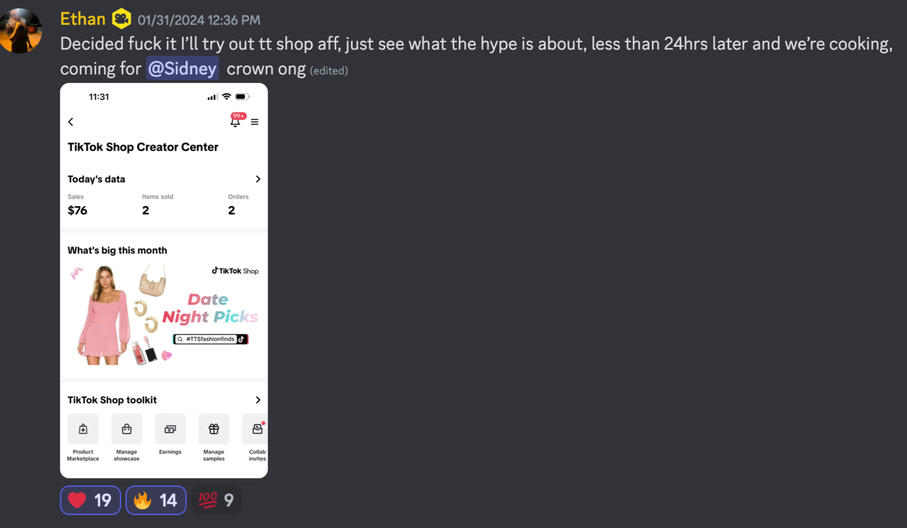 10M Views From One TikTok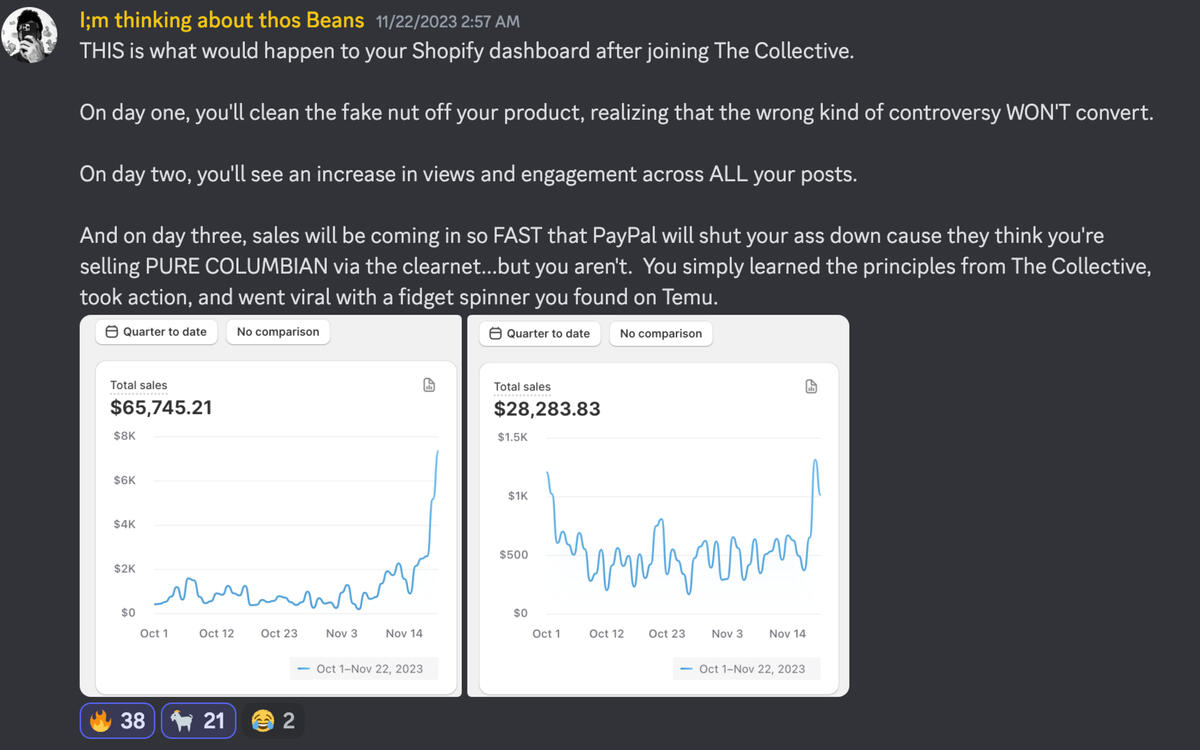 Did $1,000 in A Day From TikTok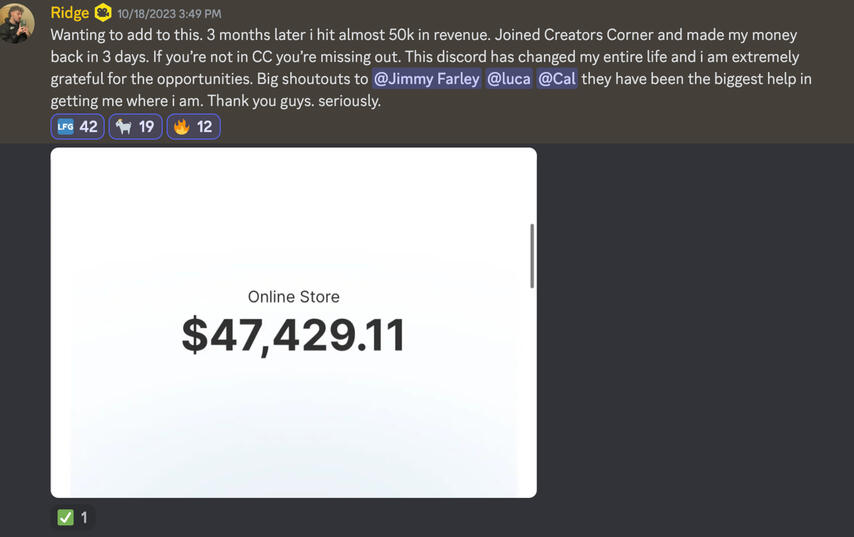 3M Views For His Clients

Hit His First $10k Month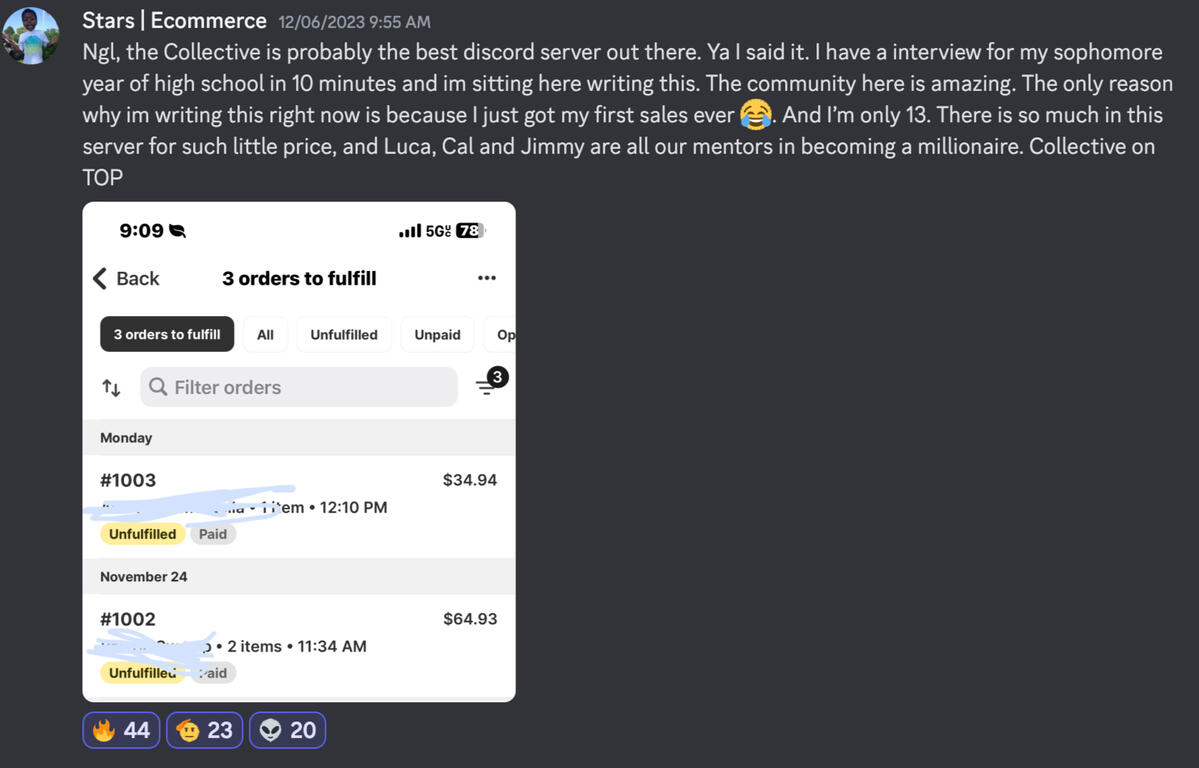 $55,000 At 23 Years old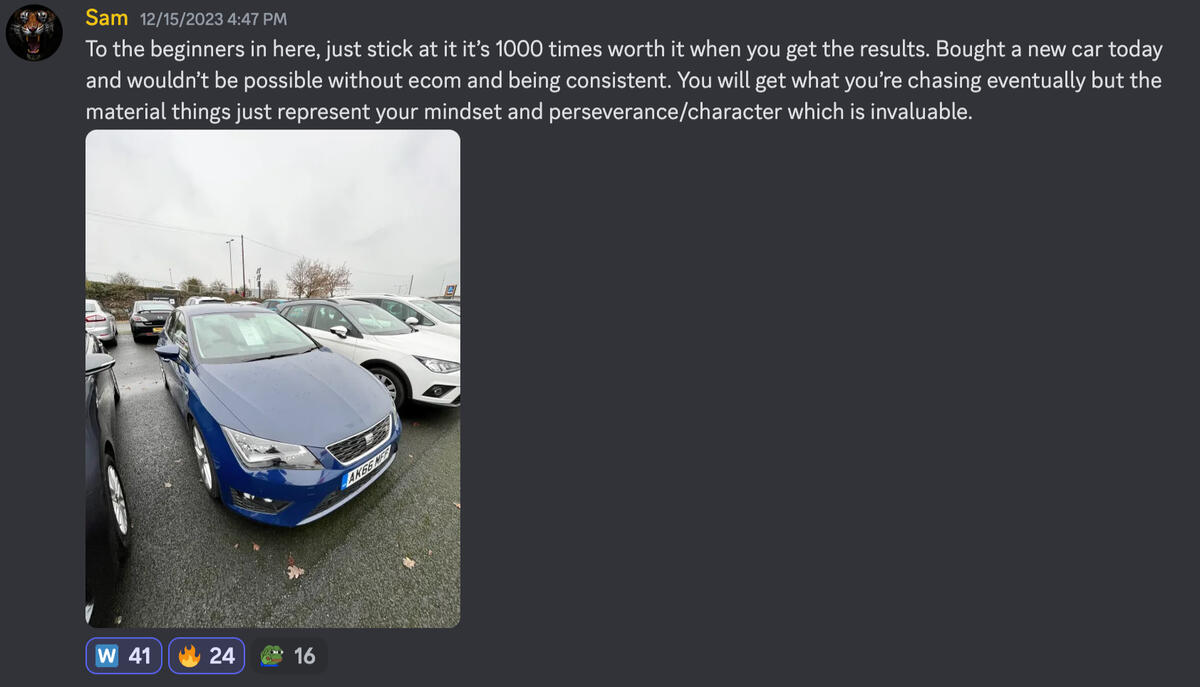 First Sale at 14 Years Old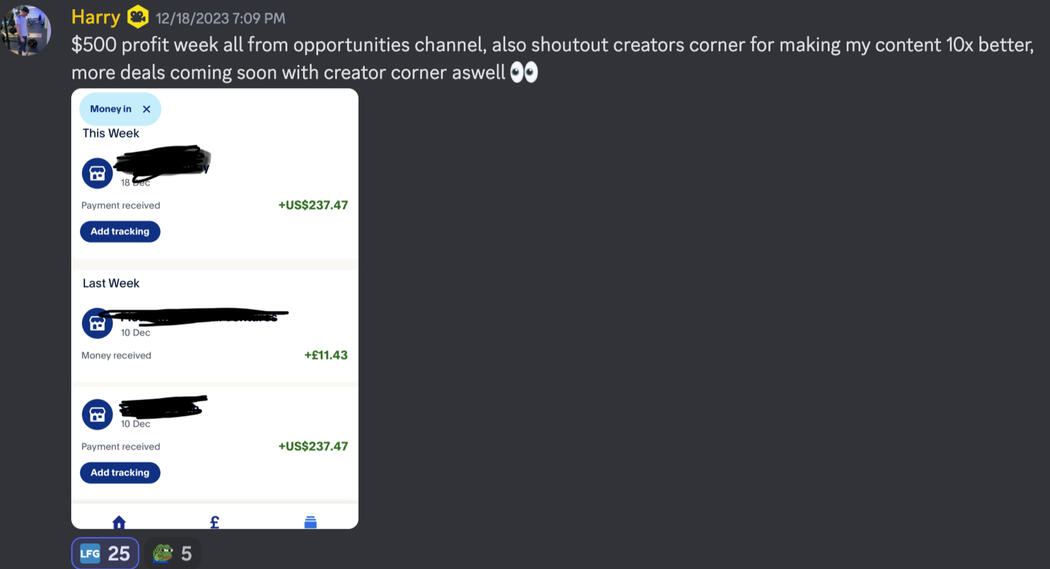 7.6M Views in 7 Days
He Made $46k in 30 Days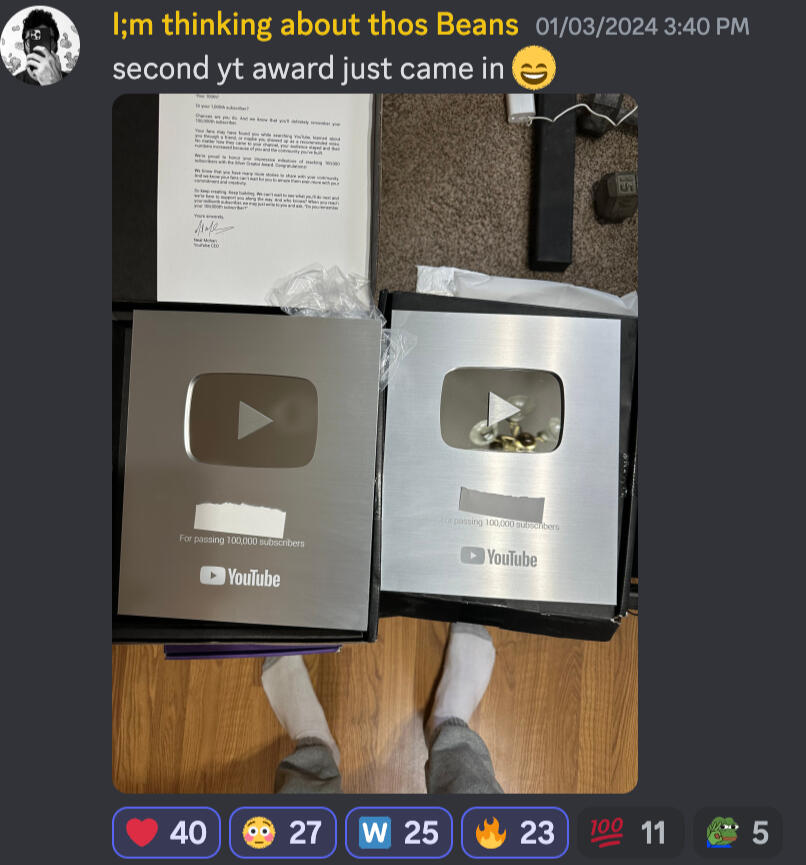 $1k in Sales in 2 Months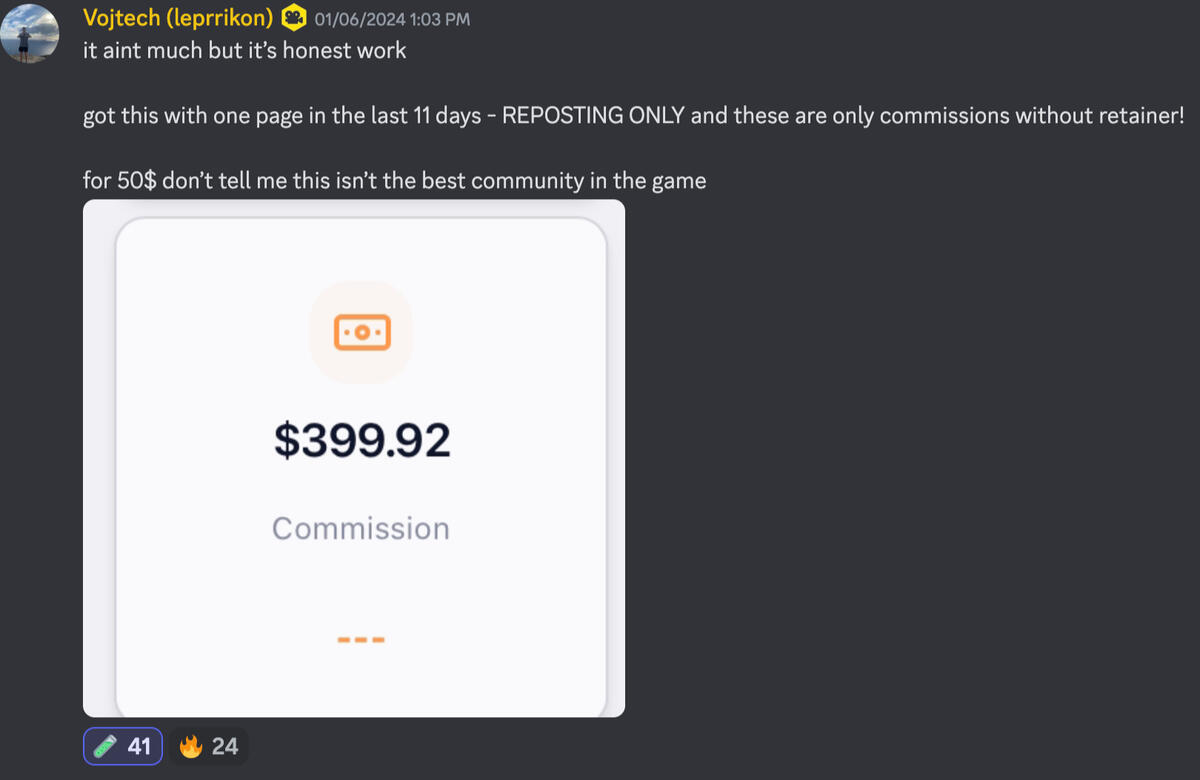 Did First Sale Ever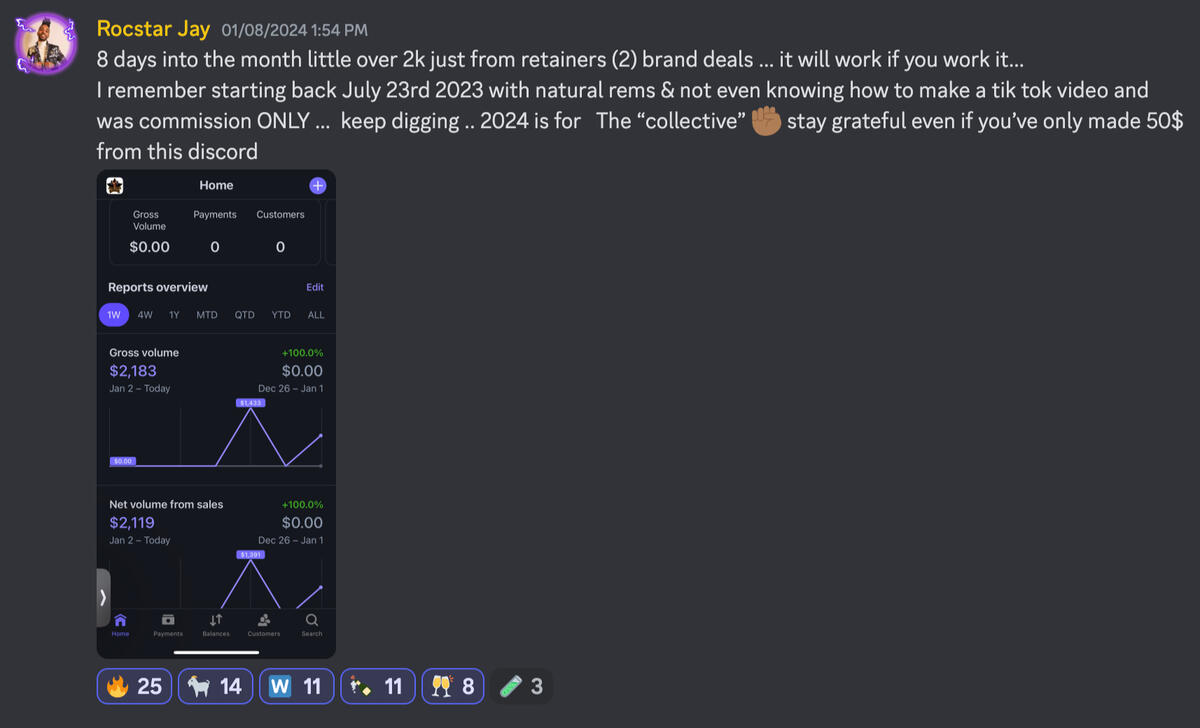 1.4 Million Views On One Video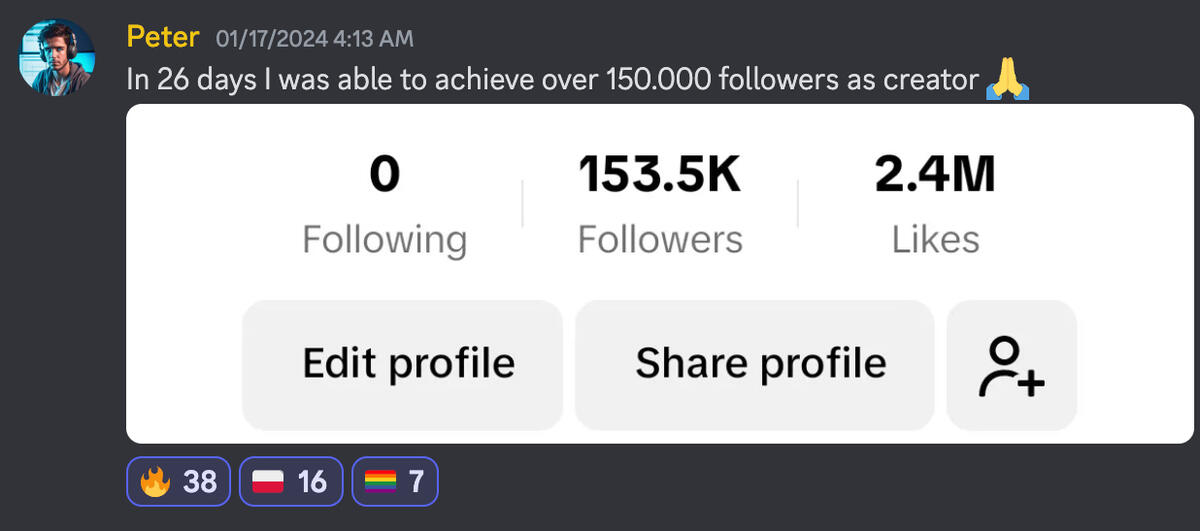 900K Views On One Video

3K In Sales On His Third Winner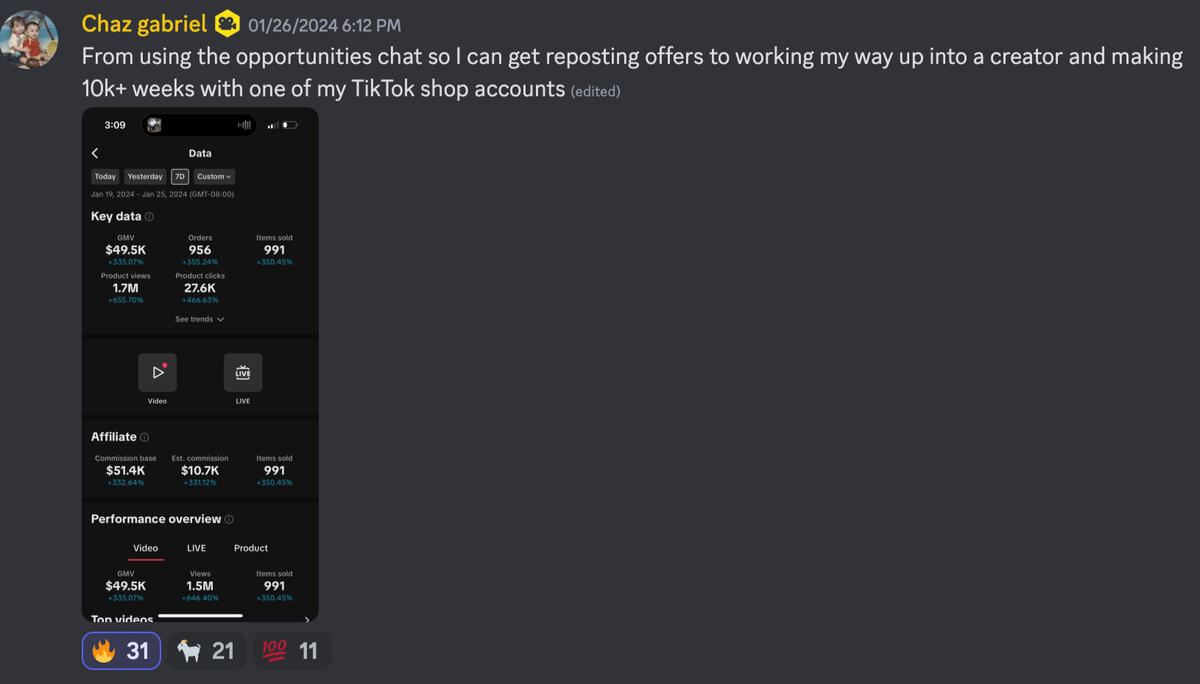 Did His First Sale Ever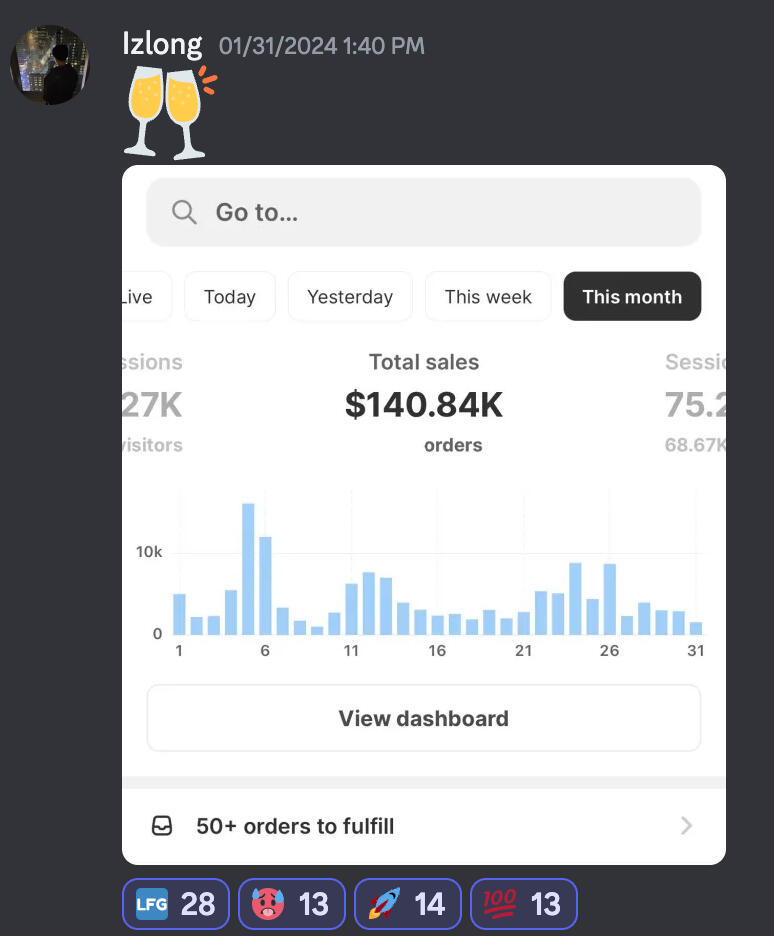 34M Views On One Video!!!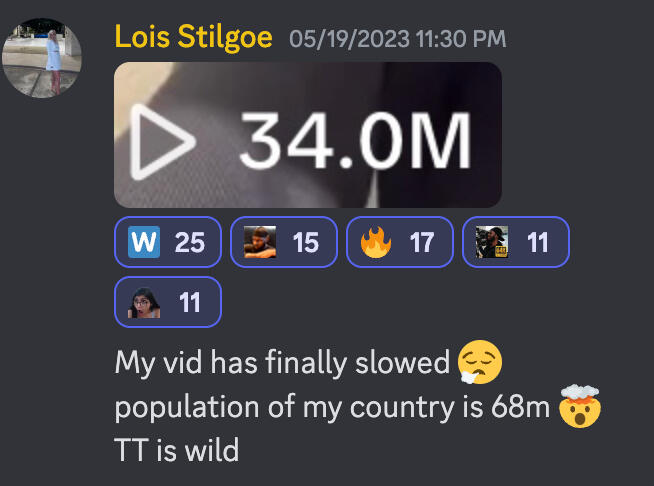 10M Views On One Video
10K In Sales In 24 Hours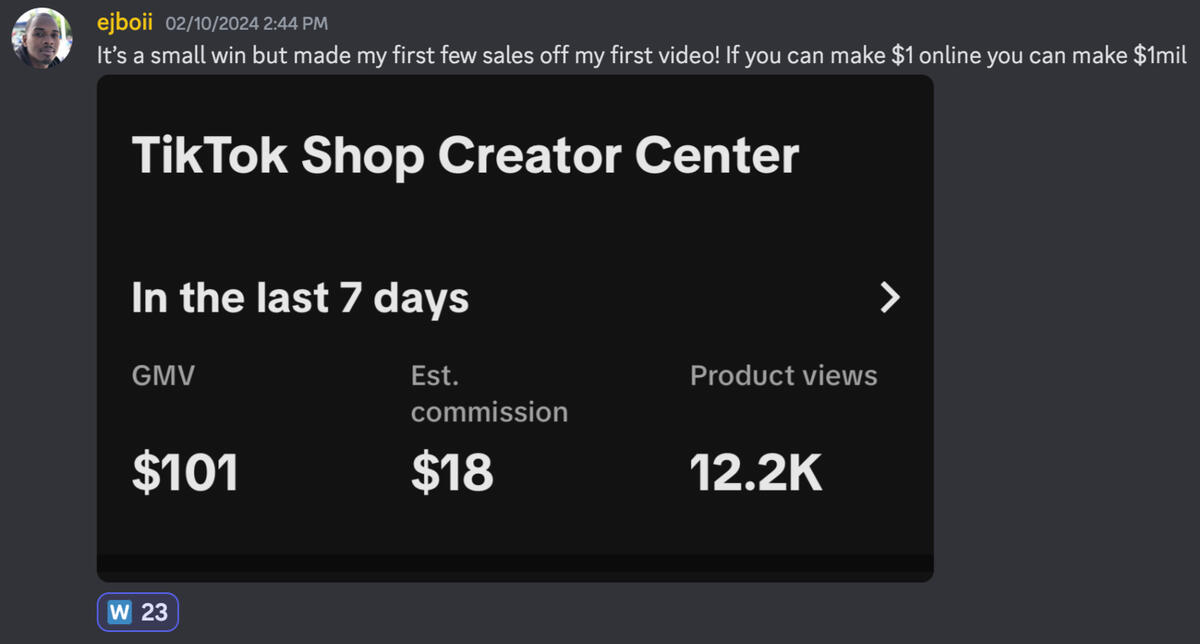 From 0 to 1K a Week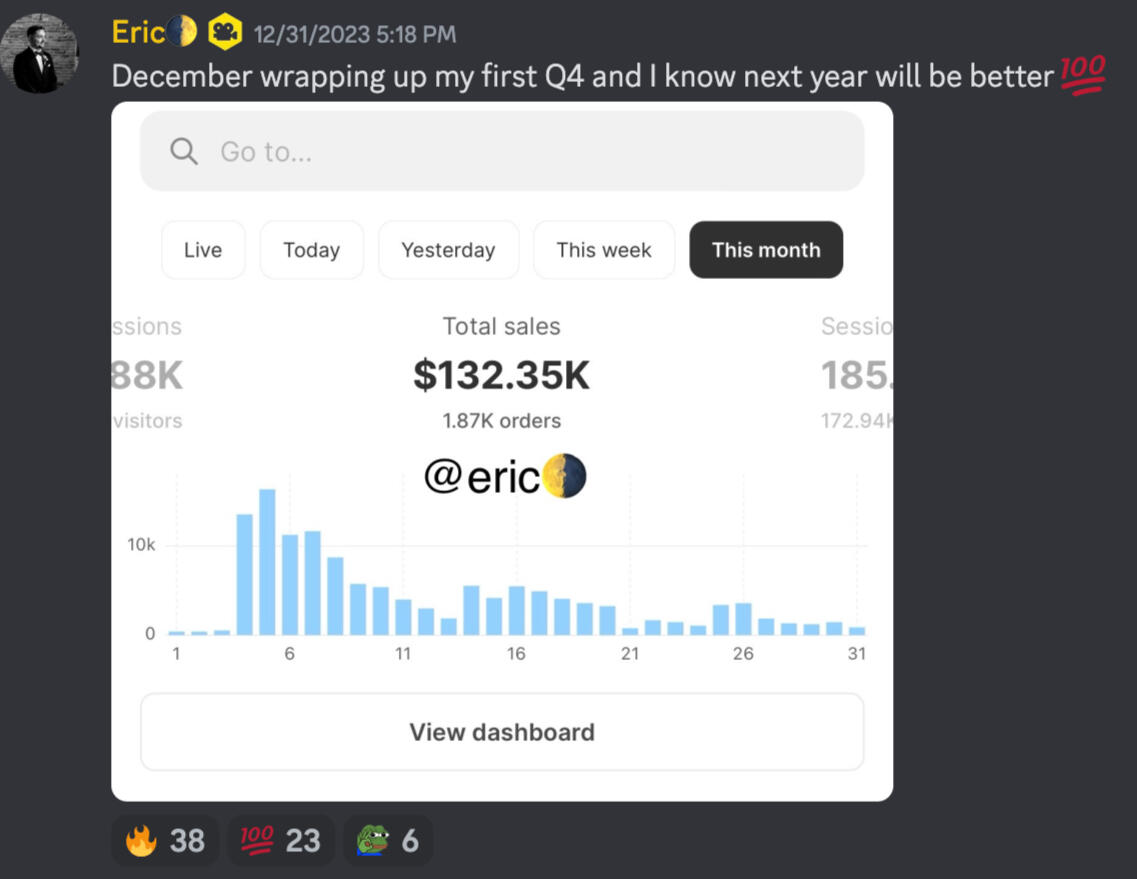 First 1K Week After A Month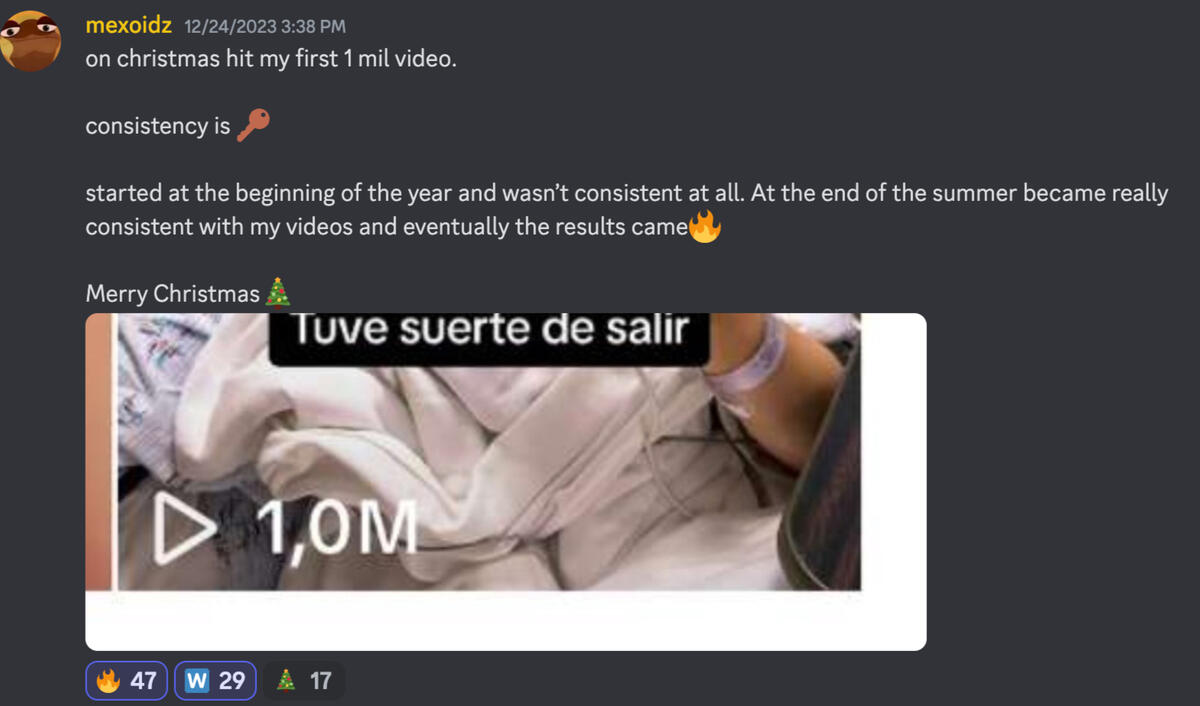 1M Views In 7 Hours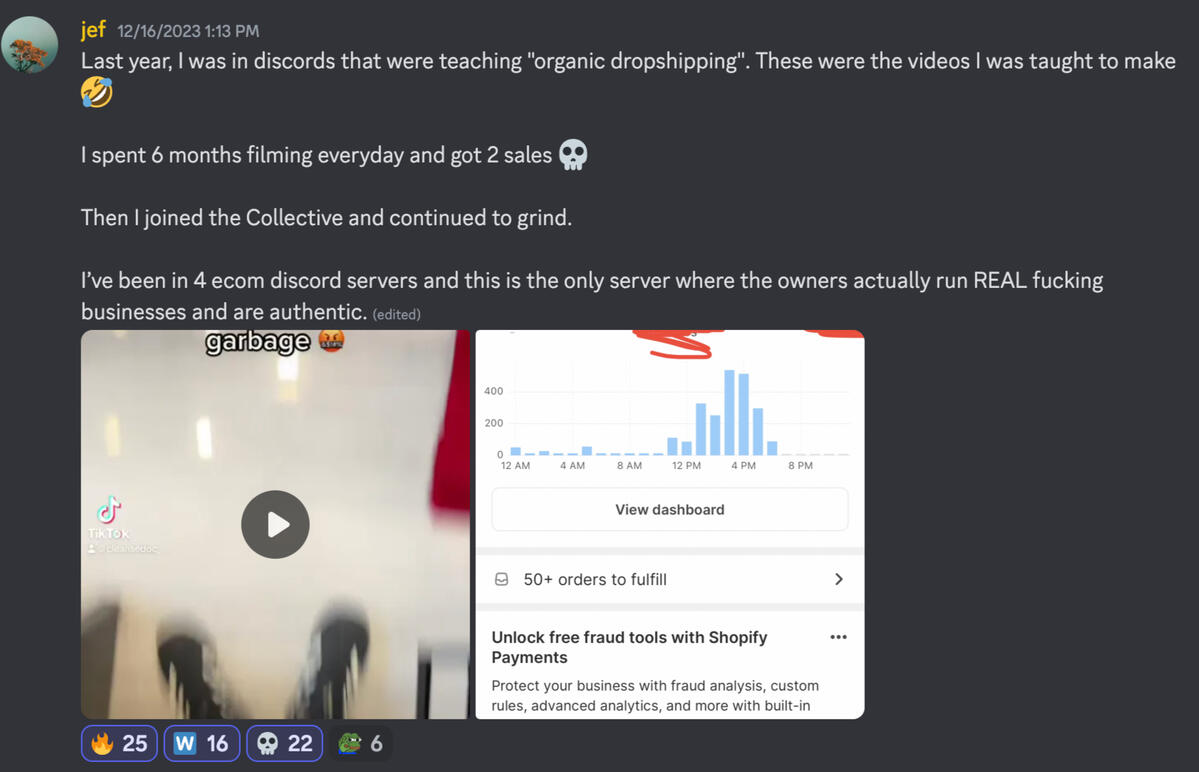 $7k In Sales In A Week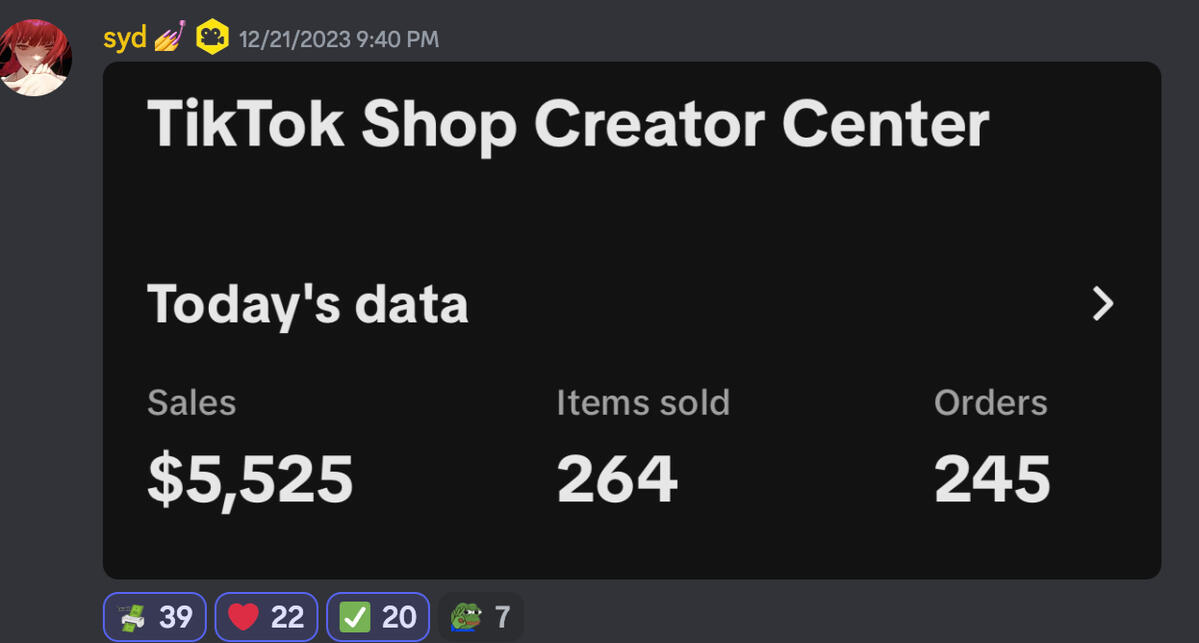 200K+ Views On 2 Videos In a Row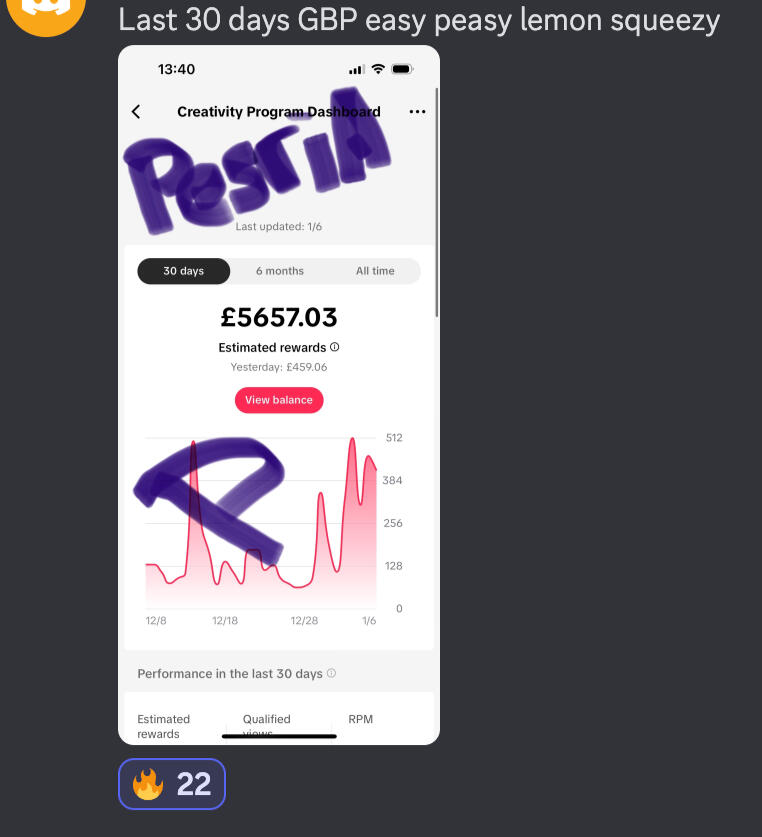 Travelling The World Thanks To Collective
$60k+ in a Week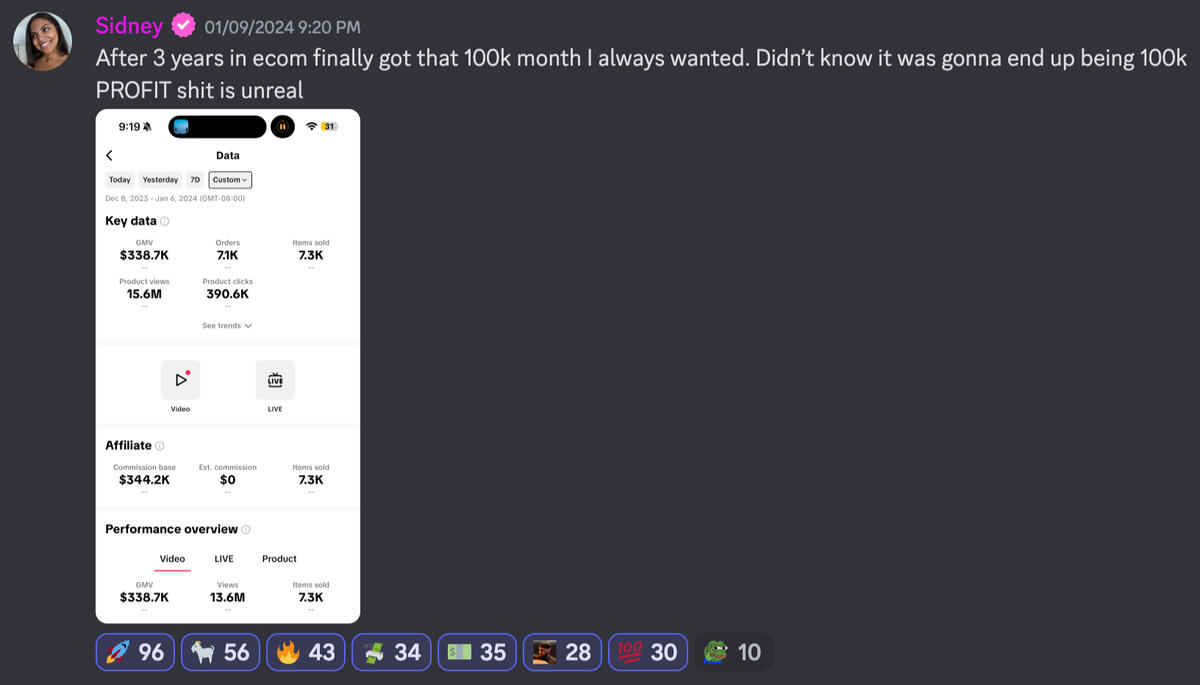 $3k+ in a Day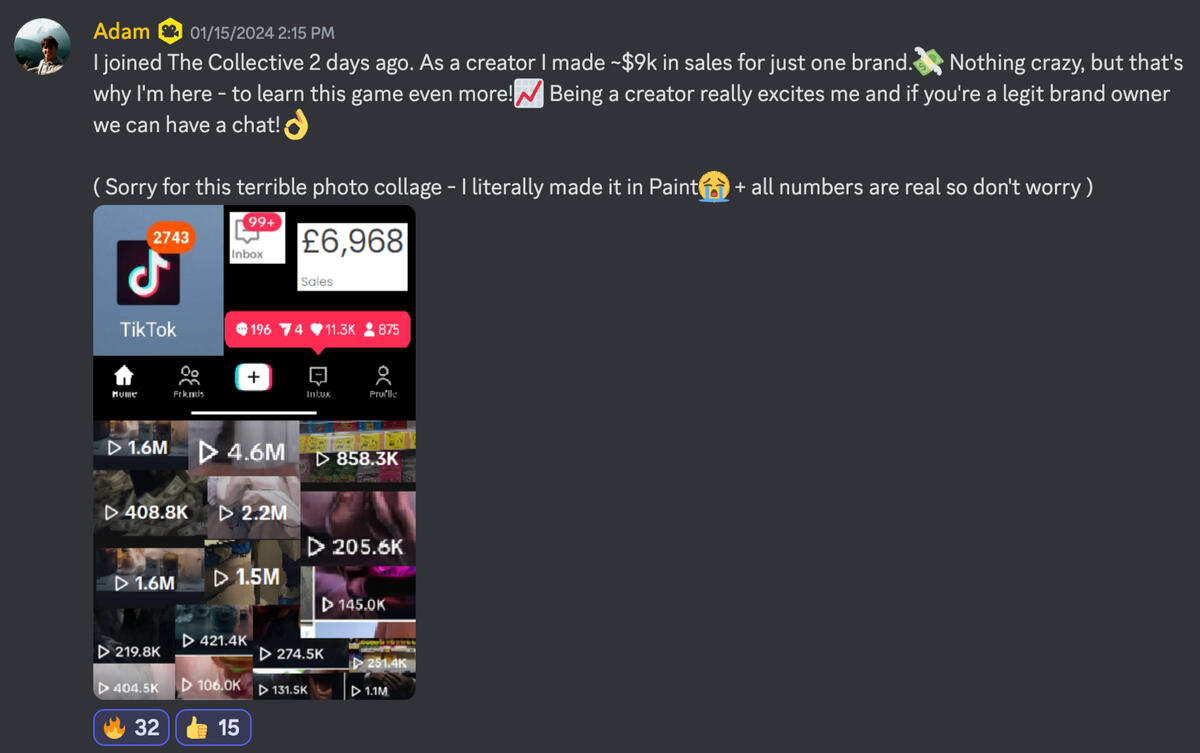 Bought Dream Car at 18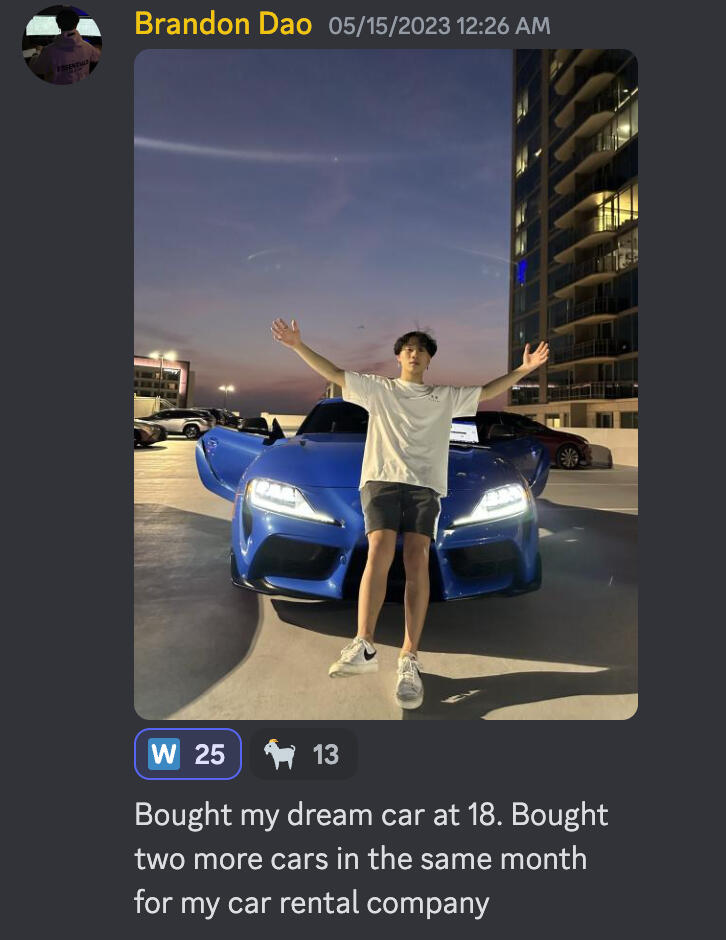 Started Clothing Brand
$6k+ in Sales in a Day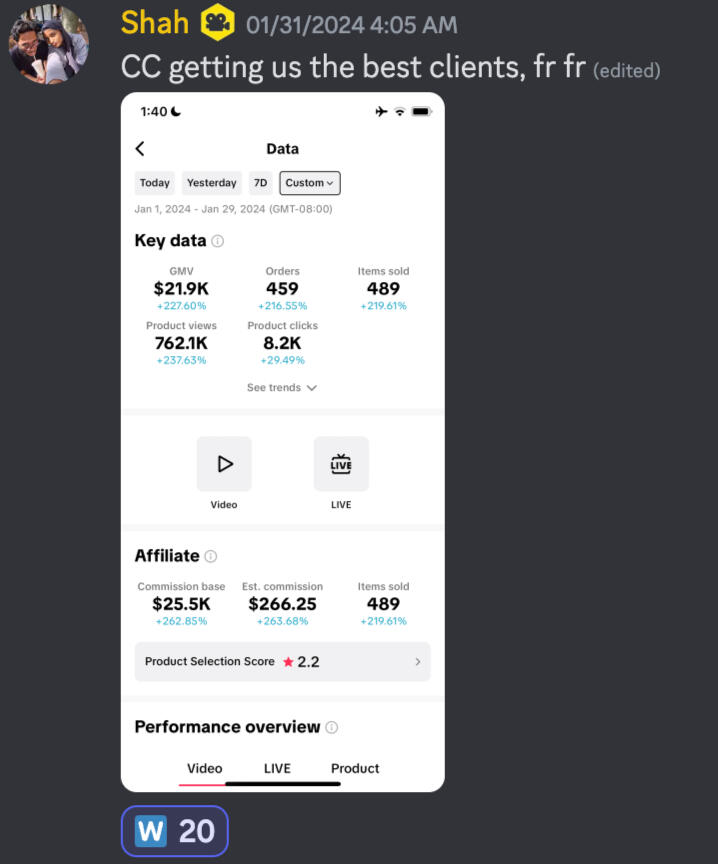 Bought His Dream Car At 17
First Million Views Video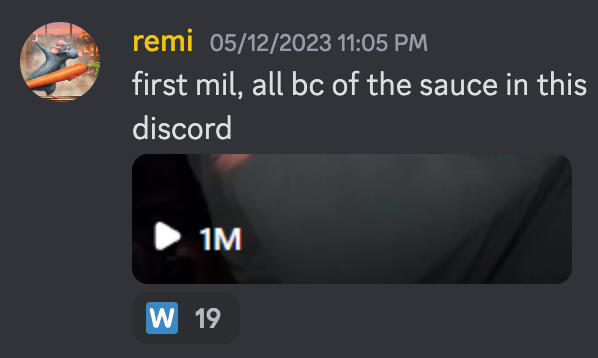 7.4M Views On One Video
From 10K to 20K in 5 Days
$2.6k in Sales in a Day
$14K in Sales
First $10K a Month
$1400 Retainer
$10k in a Day
First $10k a Month
$1000 Payout
First Viral Video
5M Views on One Video
$6+ a Day in Profit
$6k in a Day
$30k a Month in Sales
2M+ Views after a Month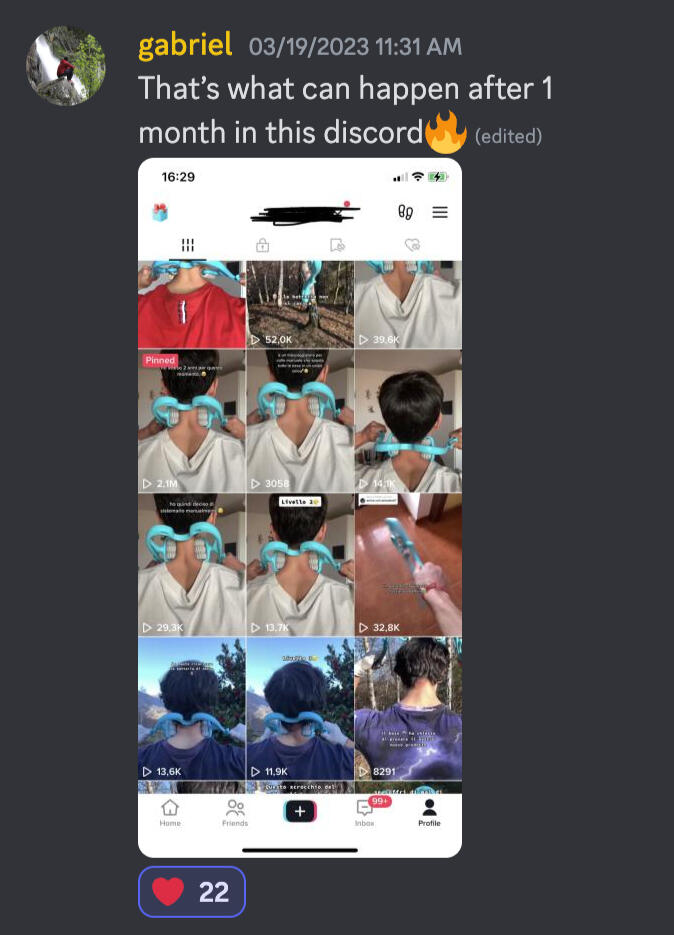 First 5 Figure Day
$22k in a Week
$20k in a Month
160k Subscribers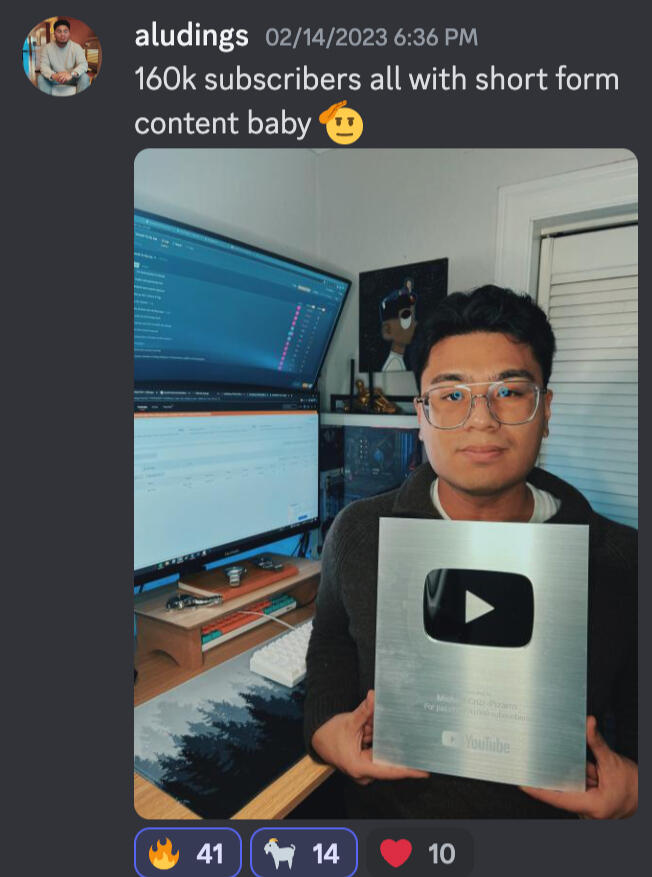 $6k in Sales
7M+ Views on One Video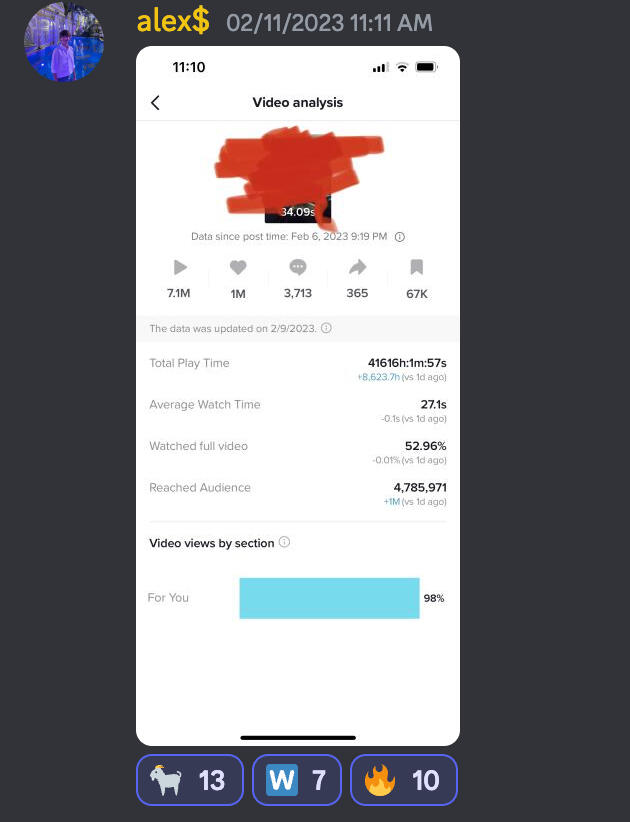 31M+ Views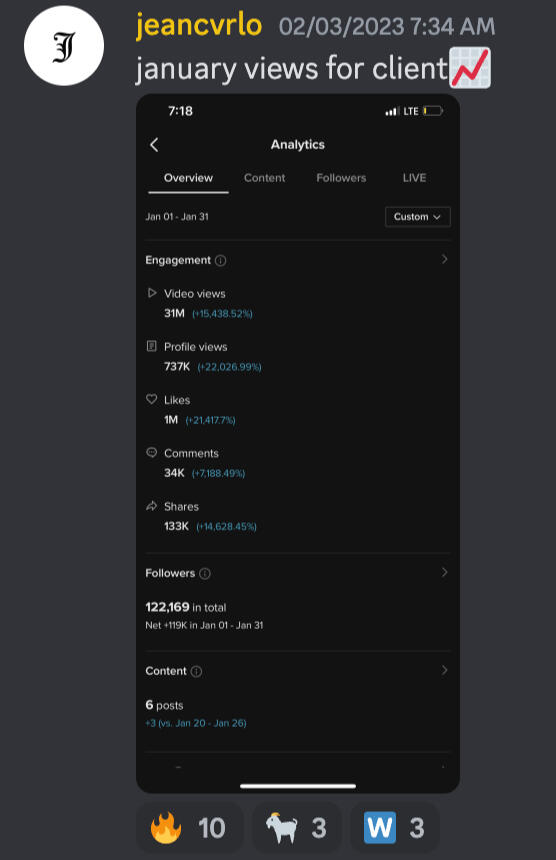 6 Figure Revenue Video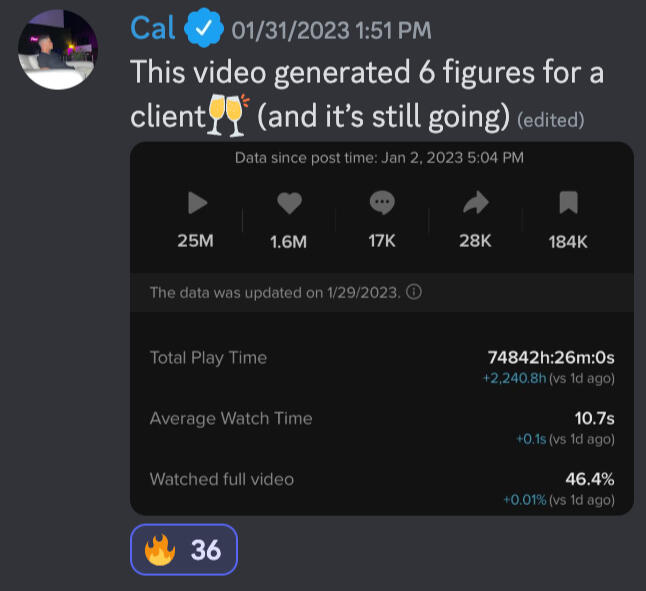 29M Views In a Month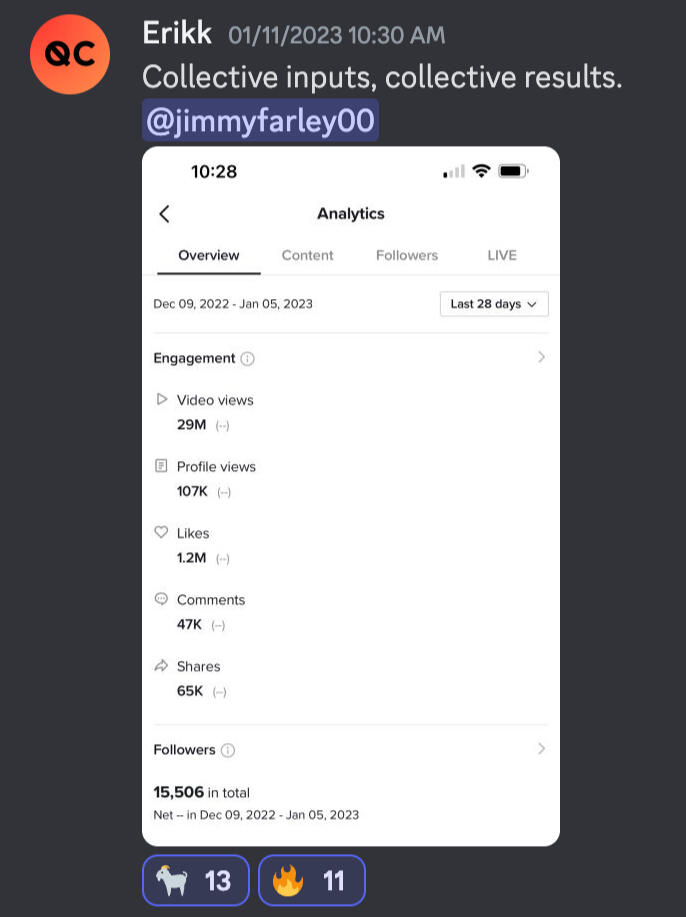 10M+ Views on One Video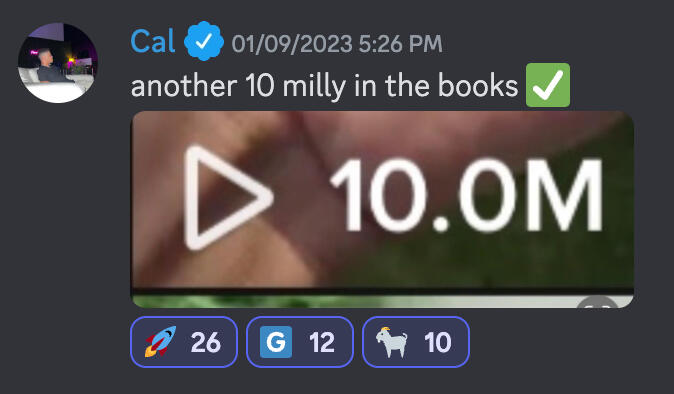 Multiple Million+ Videos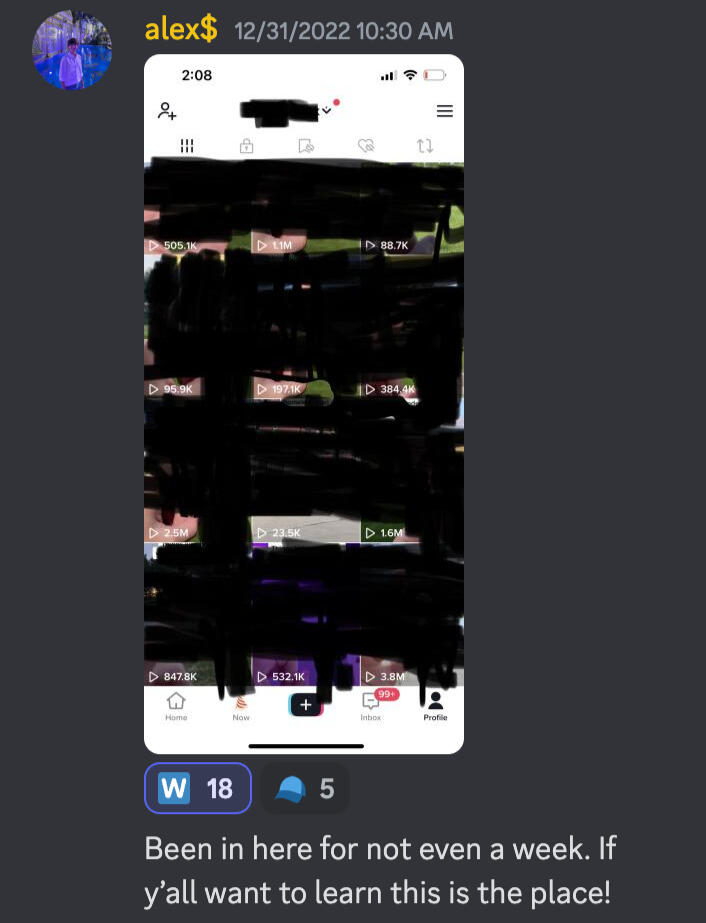 $250K Revenue In a Month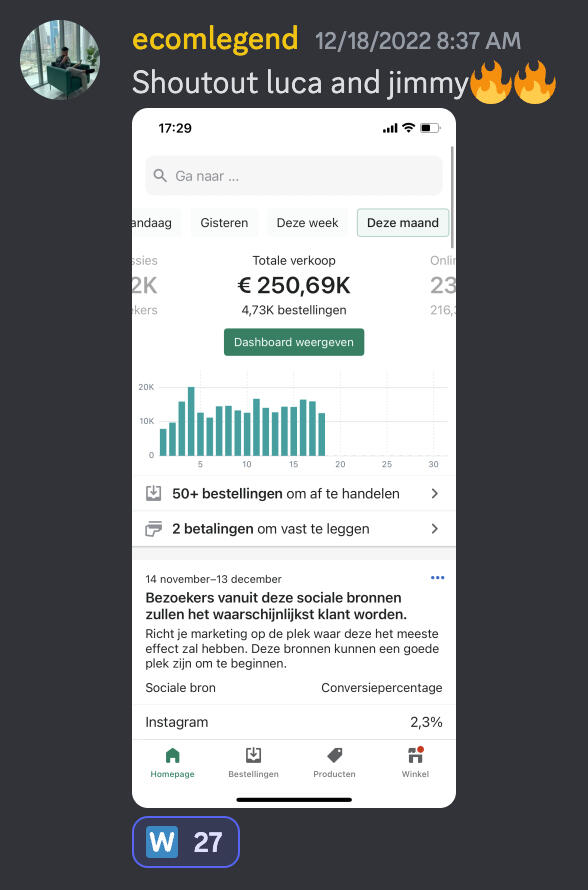 $15K Revenue in a Week
11M+ Views in a Month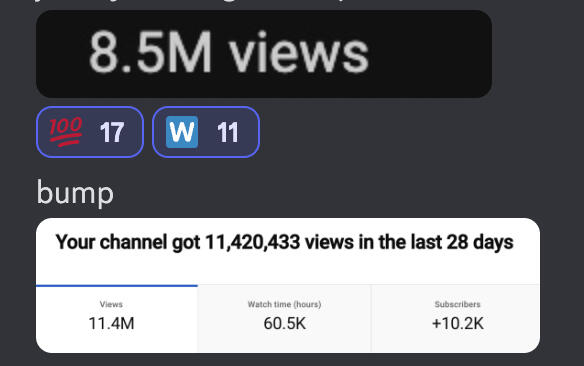 $8.6k in a Day
$11k in Sales
$6k in Sales in a Day
10M+ Views on One Video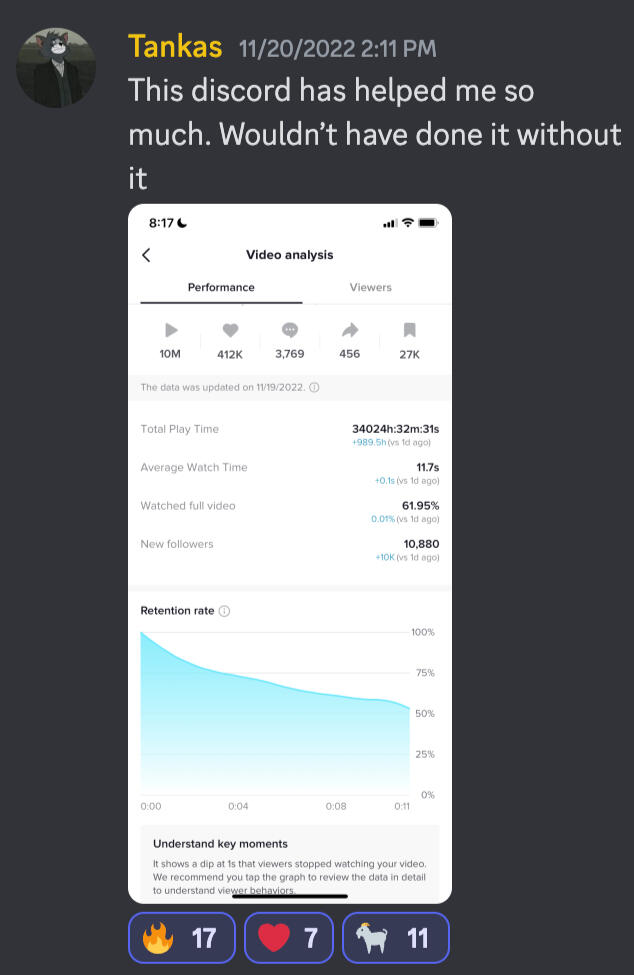 2.7M+ Views on One Video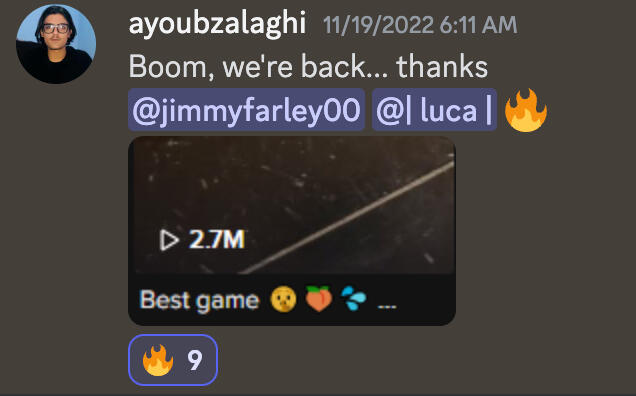 $5.2k New in 3 Days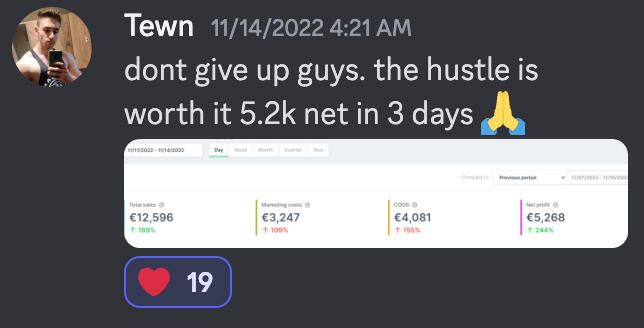 $42k in Sales
Multiple Million+ Videos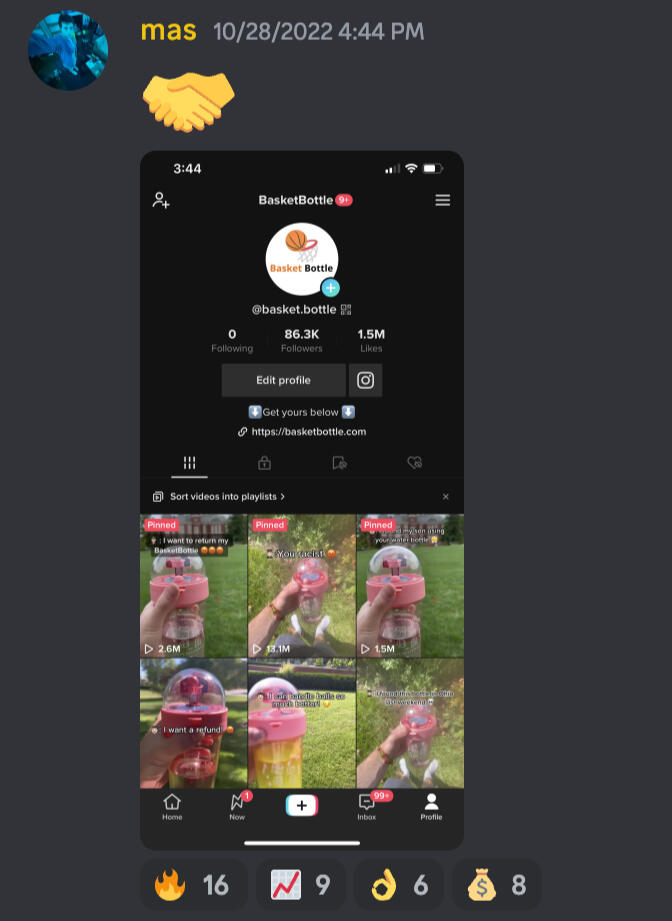 $4k+ in Sales In a Day at 18
$71k in Sales In a Month
$50k in Sales In a Month
$100K in a Month
11M Views on One Video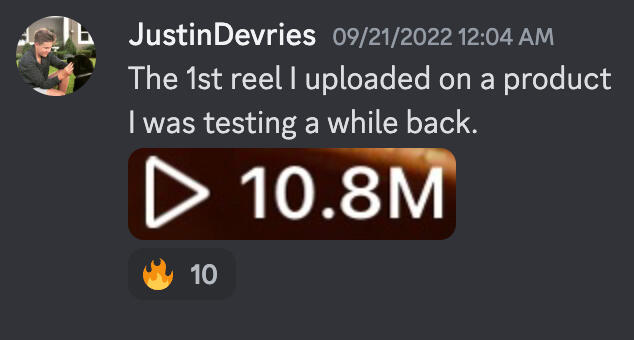 $50k in Sales In a Month
25M+ Views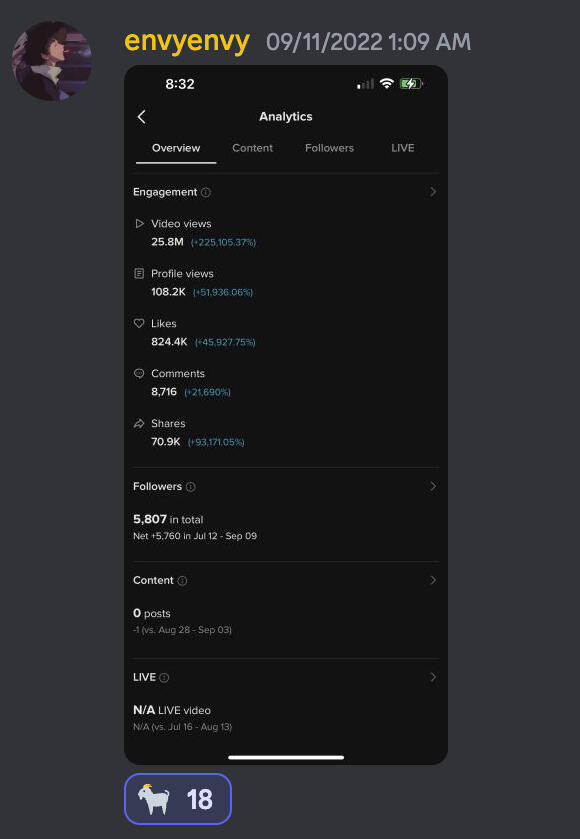 $33k+ in Sales
$55k+ in Sales in a Month
$18k in Sales in a Day
Landed $1600 Client

Bought His First Dog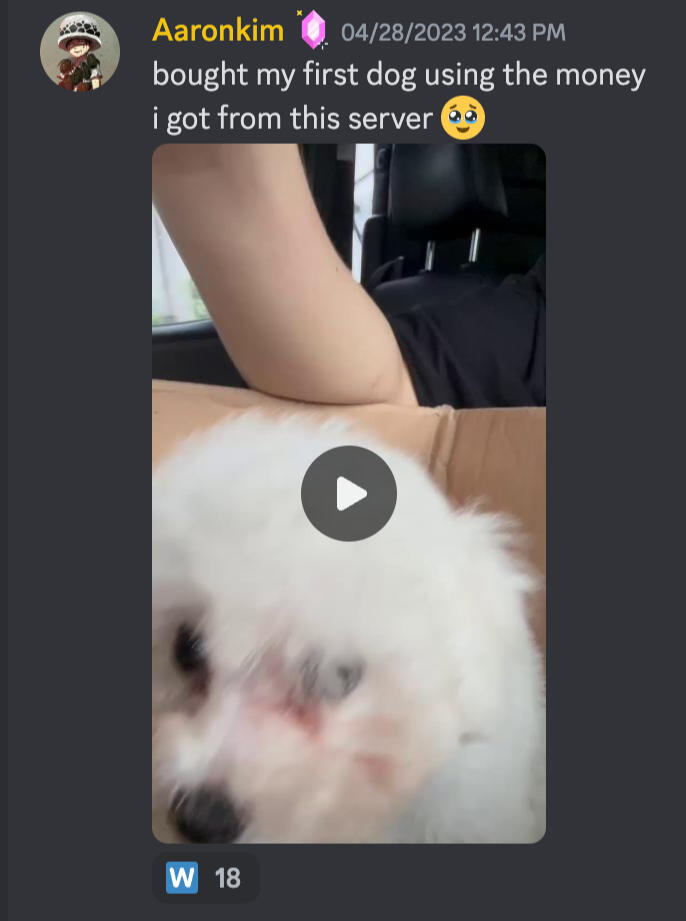 Making $10k+ Months from Morocco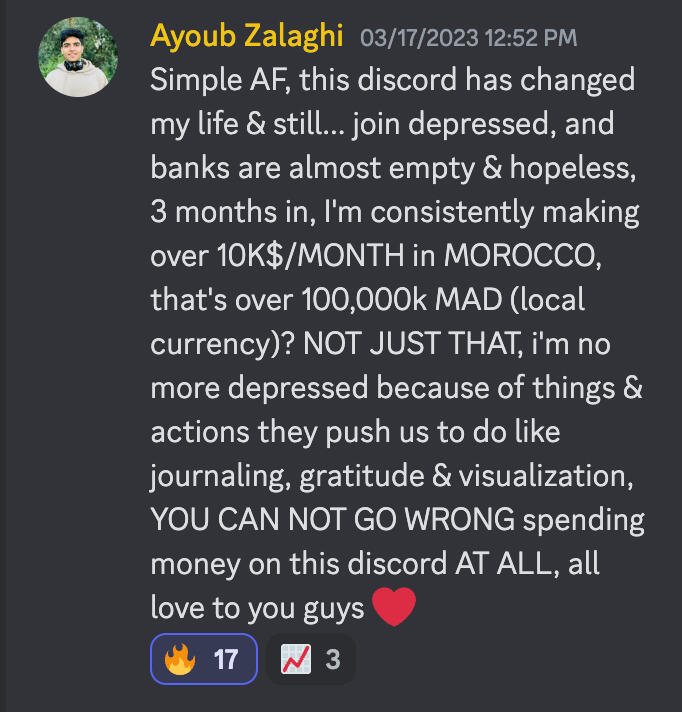 Cracked the TikTok Game Thanks to Collective
Met TON of Great People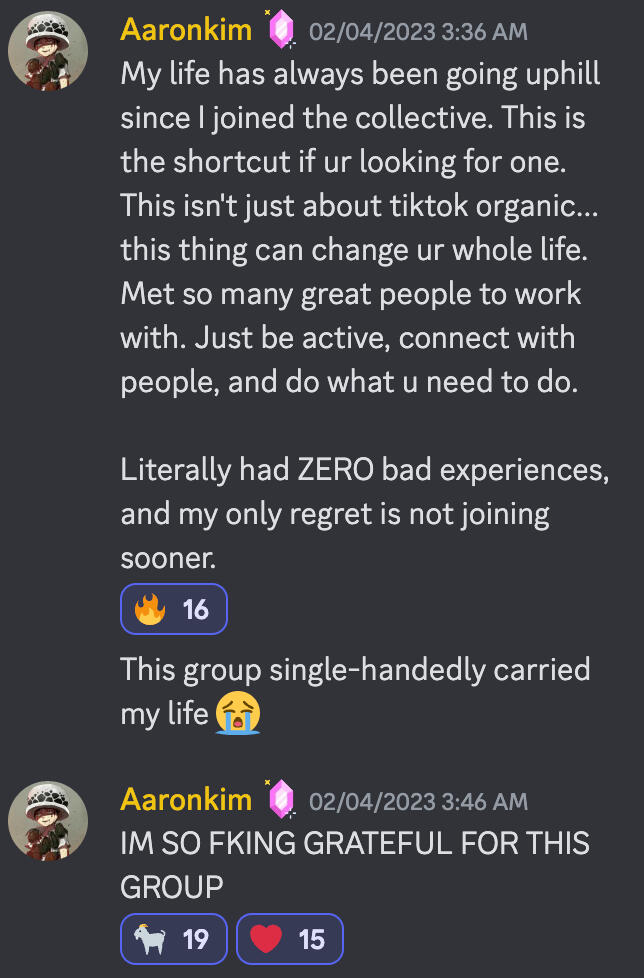 Just Cant Find Better Community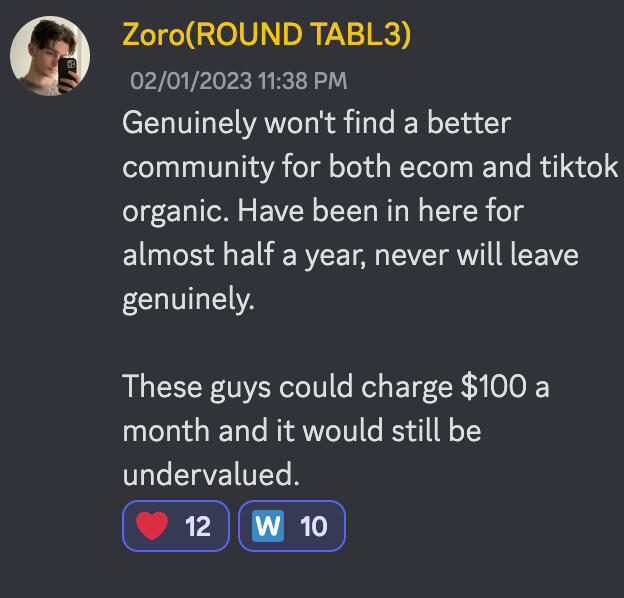 Made over $20k Just From Opportunities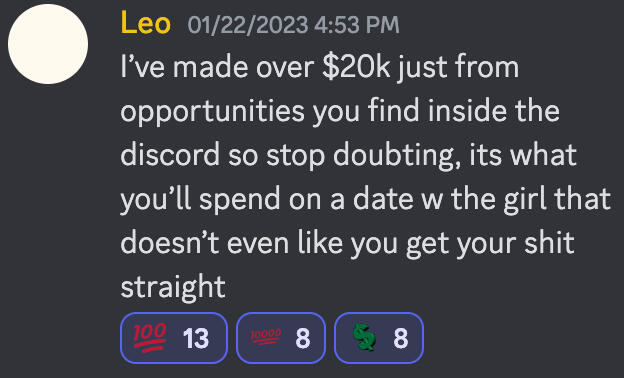 Did $50k+ in a Day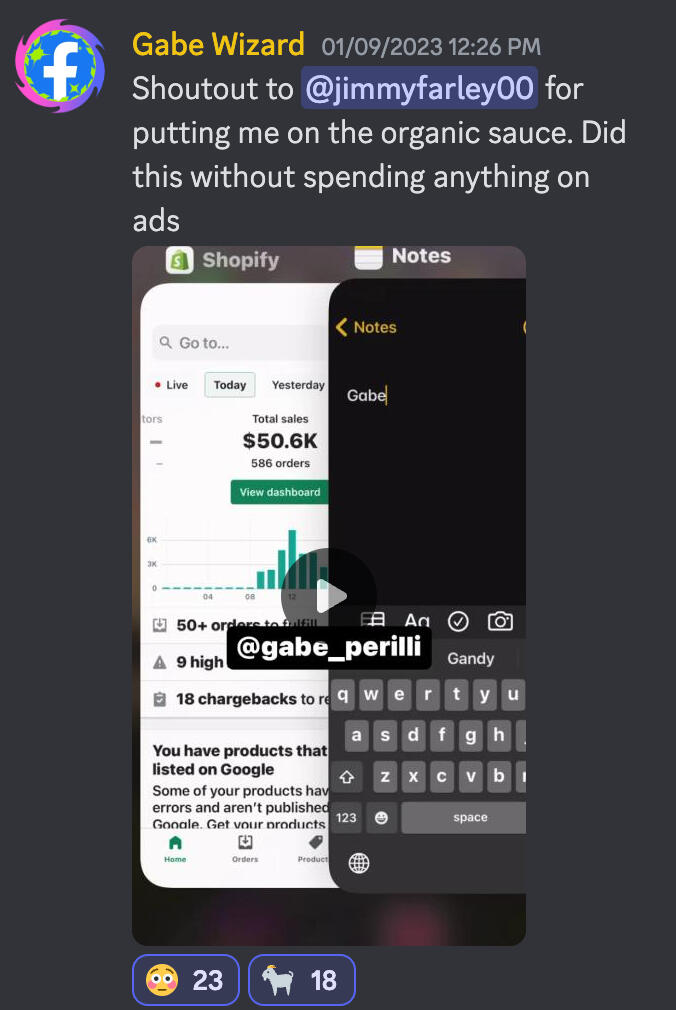 Did 10M+ On One Video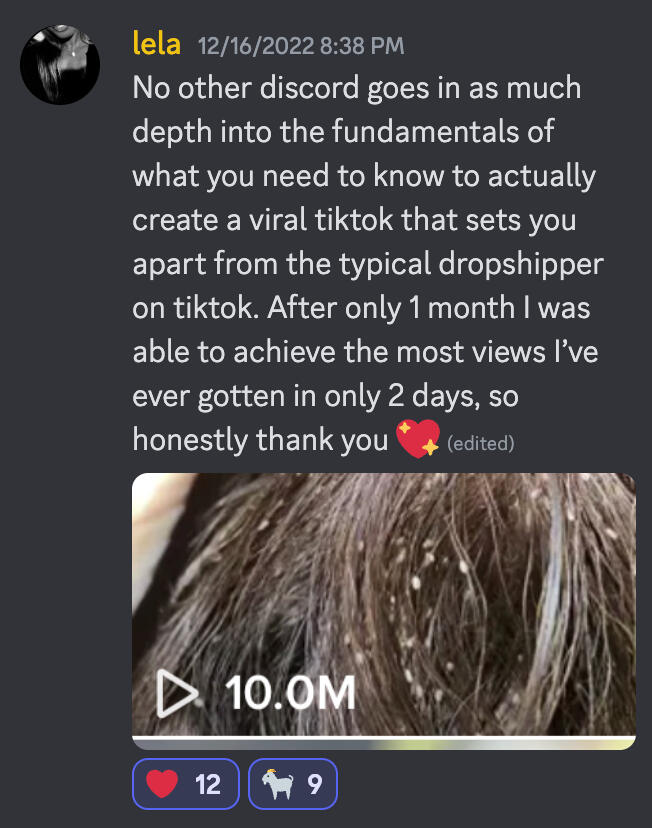 10X Value When Compared to Other Servers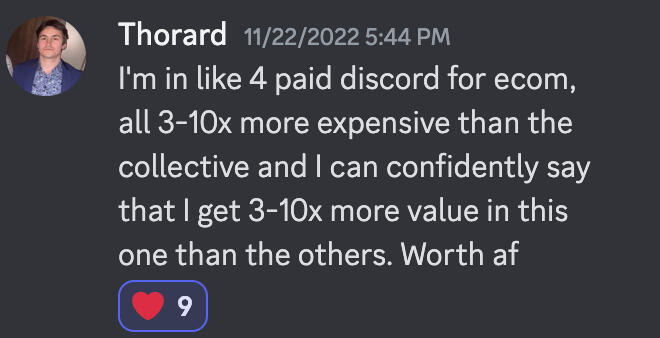 From 10M to 60M+ Views in 6 Months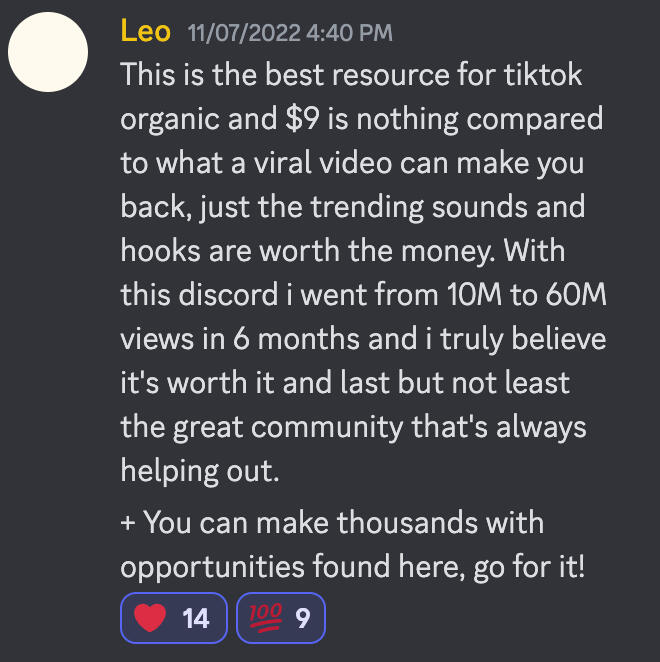 Only Resouce With Help for People Outside of USA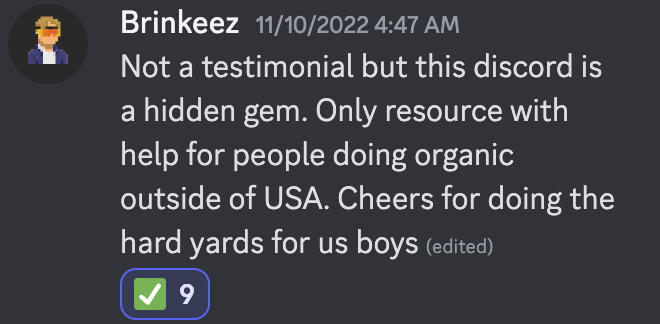 More Valuable Than $2K Mentorship